Before we left for our trip I looked into which Restaurants would be worth visiting. I made a list of a few of the highly recommended ones and we were not disappointed. Everything we ordered was so delicious! We decided to eat out just once each day to help keep the cost of the trip down and give us more time to enjoy the beach and the condo.
The first night we went out for dinner and ate at a Restaurant that was just down the street called The Blackfish Cafe.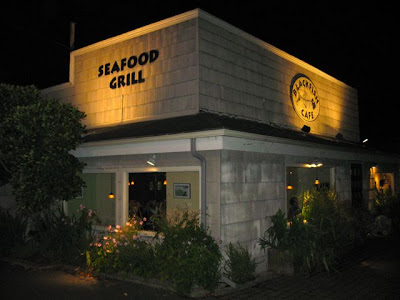 After dinner we actually considered just eating here the rest of the trip since the food was so good. I felt silly taking a picture of our meals but they were too pretty not to! 😉
~ Hubby's Dinner ~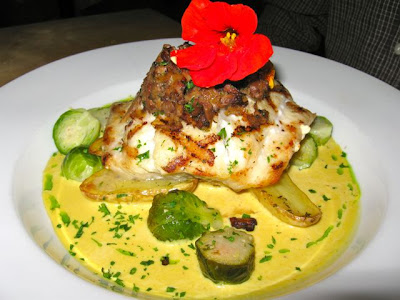 Grilled Ling Cod with Coast Range Mushroom Relish
Served with roasted Butternut Squash Bisque, Carlton Bacon braised Brussel Sprouts and Russian Fingerling Potatoes with grilled Mushroom Relish
~ My Dinner ~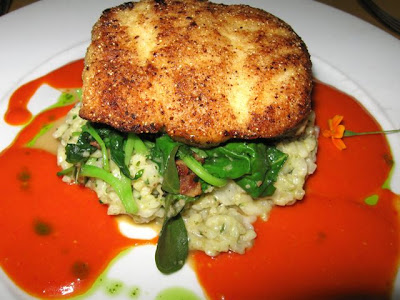 The "Special" (aka: the BEST Halibut EVER)
Served with roasted Pepper Bisque, Carlton Bacon braised Greens and Pesto Risotto
Both were served with bread and salad and we shared a bowl of Clam Chowder… They aren't kidding when they say it is "The best Clam Chowder on the Oregon Coast!"
On Saturday we ended up going out for a late lunch/early dinner at Tidal Raves, in Depoe Bay, after a little window shopping and whale watching.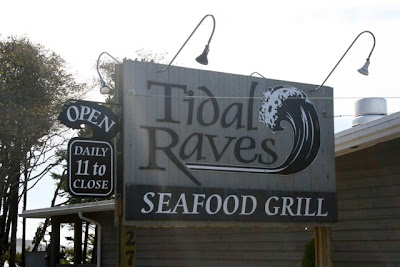 Thankfully we had made reservations earlier that morning because that place was packed, even at 2pm. All the tables in the restaurant have a view of the ocean, but we were lucky to have an awesome table right next to the window. Check out the view!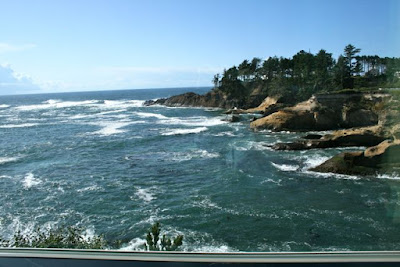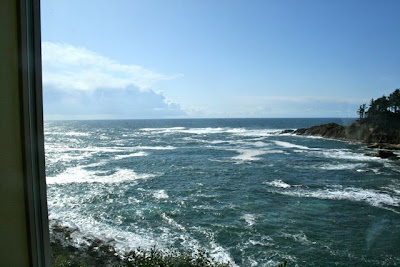 Once again the food was really yummy, though the clam chowder wasn't quite as good as at The Blackfish Cafe.
~ Hubby's Lunch ~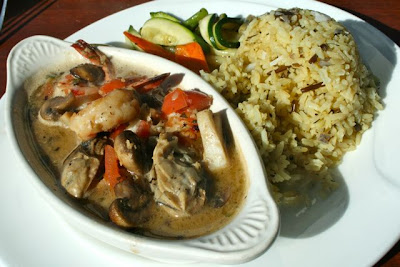 Mixed Seafood Platter
Garlic sauteed Pacific Cod, Oysters, and Tiger Shrimp
served with mixed Vegetables and Rice Pilaf
~ My Lunch ~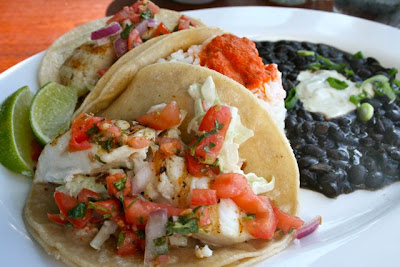 Grilled Halibut Tacos
Served With Corn Tortillas, Cilantro dressed Cabbage,
roasted Pepper Rice, Pico de Gallo, and Black Beans
We even had dessert: Tiramisu and their "Famous" Key Lime Pie!
On Sunday morning after Mass and checking out of the Condo we went to Brunch at The Wildflower Grill. It was absolutely charming and we had a little table on the patio looking over a huge pond.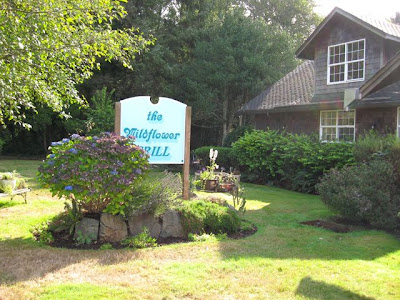 ~ Hubby's Breakfast ~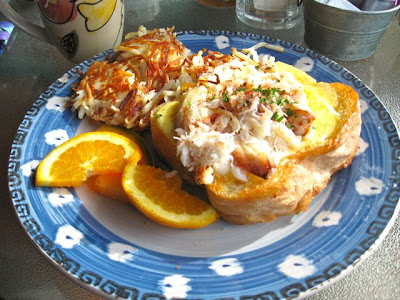 Crab Benedict
Poached Eggs & Local Crab on Wildflower Toast
With Hash Browns and topped with choice of Hollandaise Sauce
~ My Breakfast ~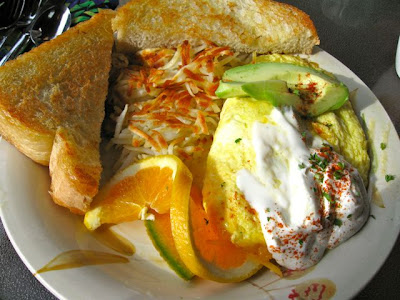 Chanterelle Mushroom Omelet
Three Egg Omelet stuffed with Chanterelle Mushrooms, Chiles,
and diced Tomatoes, topped Sour Cream and Avocado
Served with Wildflower Toast, Marion Berry Jam, and Hash-browns
Ok, now I am really craving some more of these yummy foods!!