Outside my window… Burrrrrr!!!! It is freezing out there!
I am thinking… how nice it was of hubby to get the fire going for us this morning!! It is so nice and cozy in the living room right now.
I am thankful for… all of the wonderful friends that came over to celebrate the upcoming birth of my friend Erica's baby this past Saturday!
I am wearing… a silver BellaBand
under my white 3/4 sleeve maternity shirt, which has gotten a little too short, considering my growing tummy. Last week I ordered a set (Silver & Wine) of Bella Bands for 50% off at Baby Steals and I LOVE them!! I can't believe I've waited so long to try them out, though I am sure I'll get lots of use out of them even after the baby is born.
I am remembering… my babies, Christopher and Gabriel. November is always a very difficult month for me (they were both born/miscarried on Nov 24th, of different years, and Christopher died on the 25th), but, thanks to God's grace, this year seems to be so quite a bit easier than in the past.
I am going… to go to the post office this week, FOR SURE. I have 6 packages that need to be mailed, and I finally have them all ready to go! While I am there I think I may pick up stamps for Christmas Cards/Baby Announcements. It is coming up fast!
I am reading… The Christmas Promise
by Donna VanLiere.
I am hoping… to finish up my Christmas shopping this week. You'd think, since I started this past summer, I'd be done by now, but I still have a couple things to wrap up. 😉
On my mind… Advent. It begins in less than 3 weeks, and I still have lots I'd like to finish before then. I do have my Advent Candles though!!! Wahoo!!
From the learning rooms… the boys finished making their salt dough models of Mercury and are now moving on to learning about Venus. I have a few pictures to post, but not sure if I'll be able to find the time or not… The girls finished up K week, though I did Keep it Simple! I was busy enough last week with planning the baby shower to have much extra time for lots of fun activities. We did do a couple though, which I'll share soon. This week were on "L" and they'll be learning about Lilacs, Lavender, Lily-of-the-Valley, Ladybugs, Leaves, Lanterns, and St. Lucy.
Living the Liturgical Year at Home… We'll be making Lanterns for Martinmas day! I haven't decided which we'll be making yet, there are so many ideas to choose from including Charlotte's, Anne's, Tracy's, and Dawn's.
Noticing that… despite having no complications, I seem to have so many more "aches and pains" with this pregnancy, now that I am over 30! How can a couple years make such a difference!?! lol!
Pondering these words… taken from the book I mentioned above… I can really relate, especially this year…"It's a terrifying thing to give your heart to that small band of people around you, knowing that relationships can be messy and that someday your heart may be broken and you'll come undone. That's the riskiest part of this human journey. In the past year, I think I've finally learned that there are some things that God doesn't want us to forget so He allows us to go back to those memories–not daily, but on occasion–and remember. It's in those moments we discover that somehow, some way, God entwines both remembering and forgetting and shapes them into beauty, something that actually makes sense of the mess in our lives. I still have a hard time understanding that kind of grace, and although there are days when I feel unworthy to accept it, I do. If I didn't I'd go crazy. We all would. "
From the kitchen… Lots of Leftovers from the Baby Shower. (Perfect for "L" week, right?!) I always make way too much food!
Around the house… Roses! I never imagined back when I named this blog, in honor of St. Therese, all the roses I would receive as a result!! Angela and her daughter drove quite a long ways to attend Erica's shower on Saturday, so they stayed overnight Friday. When she arrived she showered us with Roses of all kinds, beautiful real roses, chocolate roses, and even roses made from BABY CLOTHING!! I'll have to post a few pictures soon! Thank you Angela!!
One of my favorite things… Roses!
A few plans for the rest of the week:
Tuesday ~ Bunco!
Wednesday ~ OB check-up with my midwife
Thursday ~ Little Flowers Meeting
Friday ~ Well Child Check-ups for all FIVE of our children
A Picture thought I am sharing: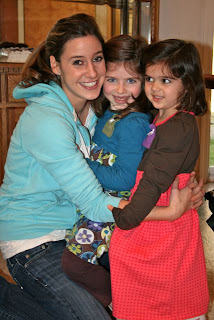 The girls with their Aunt JoAnn this past Saturday