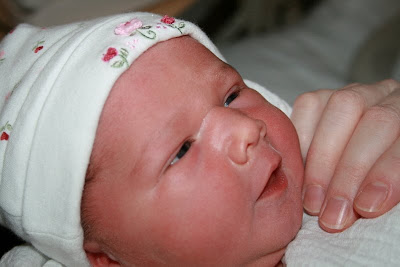 Our baby girl ~ December 16th, 2009 ~ 15 hours old
First of all I want to THANK YOU for all the lovely comments and congratulations!!! What a blessing it has been to have you all share in our excitement and know that you've been praying for us!
Right now it is early Friday (12/18) morning, and the baby and I are still at the hospital… Originally we were supposed to be going home yesterday, but it turned out that the baby's pediatrician wanted to keep her a little longer to monitor her heart and get an echocardiogram after hearing a murmur. The test was sent to a pediatric cardiologist specialist 4 hours away to be read and it wasn't until late yesterday afternoon before her pediatrician had spoken with the cardiologist and was able to come back in to go over the results with us.
Apparently our precious baby does have a couple of small holes (Ventricular Septal Defects, aka: VSD's) in her little heart in addition to a Patent Ductus Arteriosos (PDA). The doctor seems pretty confident that the PDA will resolve itself fairly quickly on its own, but we will need to have another echocardiogram done with the specialist when he is in town in January for the VSD's. The pediatrician also said that there is a really good chance that the holes (especially the top one) will close on their own sometime in the upcoming months/year as her heart grows, but it is something we will need to watch.
Other than that, she is doing wonderfully. She nurses well and is such a sweet little baby! She is so strong and big (almost a pound bigger than her sisters were at birth!) and hardly feels like a newborn!!
As for me, other than being a bit emotional yesterday, I am feeling okay. Despite a relatively quick (my actual "active labor" was only 2 hrs and 10 minutes, in which the last 20 minutes I went from 7cm to holding the baby!) and "easy" (ie: no pain meds, tears or stitches! Oh and the nurse got the IV, for antibiotics, in on the first try – which was a first ever for me!!) delivery, the recovery (particularly the postpartum contractions/afterpains) has been challenging and so the extra day in the hospital has probably been a good thing for me as well. I do so miss my other children though and can hardly wait to introduce them to their new baby sister!
Anyhow, I better shut off this computer (thank you Dad for loaning me your laptop!!) and try and get a bit more sleep…
Thank you all for your continued prayers. God bless!!