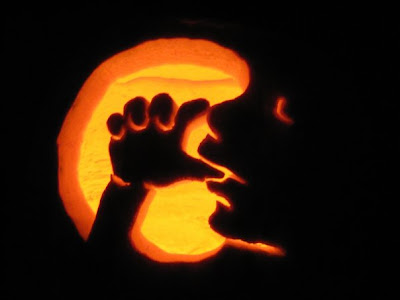 I was so excited when I saw this awesome pumpkin carving earlier today, sort of like our Saint-O-Lanterns, from American Life League:
There are many opportunities to be a voice for the voiceless, and most of those opportunities require us to go to a public place. But, on the eve of All Saints Day, the public comes to us!

So, make a pro-life jack-o-lantern and send your photos to us. Be sure to include your name, age and address in the e-mail, and we'll post the best ones on our home page!

It doesn't have to be anything fancy. It could be as intricate as the design here or as simple as the word "Pro-Life." Whatever your skill level, be creative and tell the world about the personhood of preborn babies!
You can even download the template here!