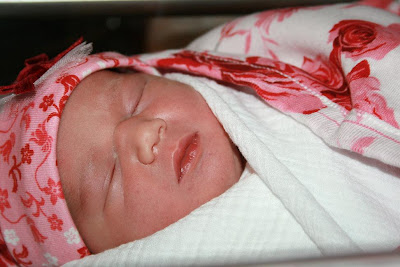 Our little Christmas "Rose" arrived last night!
♥ ♥ ♥
Birthday: December 15, 2009
Time: 11:49 p.m.
Weight: 8 pounds 1 ounce
Length: 19 inches
♥ ♥ ♥
Thank you all for your prayers!
I couldn't have hoped and prayed for a better labor and delivery!
The baby and I will be staying here at the hospital until tomorrow, so that they can continue to monitor her, due to the Group-B Strep, but so far she is doing wonderfully!
Deo Gratias!