"It's important for moms to recognize that all the small successes in our days can add up to one big triumph. So on Thursday of each week, we do exactly that."
~ 1 ~

I began organizing and de-cluttering some of my kitchen cupboards and drawers. Here are a few before and after pictures:
~ 2 ~
We hosted a "little" family get-together this past Saturday since some of our relatives from out-of-state were in town. I made WAY too much food, but we were able to enjoy the leftovers for days! My favorite was the Sundried Tomato Pasta Salad (I'll try and post the recipe soon), though the Blueberry-Strawberry Cobbler I made from the leftover berries was delicious too!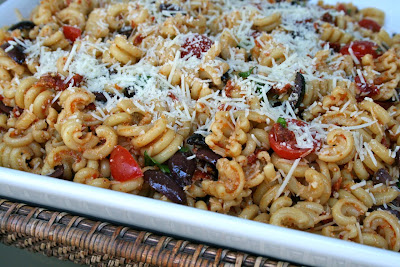 ~ 3 ~
After starting to read "It's So You! Fitting Fashion to Your Life
" this past weekend, I went through all my clothing and have a few stacks of stuff that is "So Not Me!" lol!! (I actually took the following picture before I was finished, and there is another stack next to those pictured!)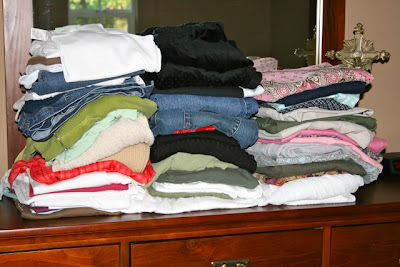 I found it interesting that most of the clothes in the stacks are things I hardly ever wear, even though I "like" them…
I must admit that I was disappointed to read that green is not in my "color palette" and I am really hoping that I am one of the rare women with "cool undertones" that can get away with wearing chocolate brown. It's another one of my favorites!! On the other hand, yesterday I was wearing a shirt that I picked up at Motherhood on Monday (following the guidelines for my body type and color palette from the book) and hubby kept saying "You look really nice today!" You know, there just might be something to it all!  (Or perhaps his anesthesia hadn't completely worn off!)  😉
I guessed correctly!! I just knew she was a little girl! Now, I need to start thinking about pulling out all those darling little outfits which have been packed away for over 4 years. Yay!!!
What are your Small Successes this week?