"It's important for moms to recognize that all the small successes in our days can add up to one big triumph. So on Thursday of each week, we do exactly that."
~ 1 ~

I took all of my children on another day of errands this past Tuesday. While we were out we recycled a van full of cardboard; returned books & videos to the library; purchased Closet Organizers for the old school room closet which is now the boys room; purchased supplies for our State-to-State Notebooks and other crafts this coming school year; had lunch with hubby on the grass outside his office; redeemed the children's Summer Reading Programs at both Barnes & Noble and the library; purchased a BBQ Chicken Pizza for dinner as well as fresh produce at a local farm including: sweet corn, zucchini, squash, tomatoes, and the most delicious blackberries ever.

~ 2 ~
Last Friday we filled the back of our van (with all the seats down!) 4 times with things to donate. The first trip was with all the clothes, toys, etc that I had decluttered over the past couple weeks inside our home. (I even found a place which would TAKE the toys, a huge success in itself!) The following 3 trips were of furniture and other items that have been outside in our "garage" for over a year. I guess we could have tried having a yard sale, but being so busy and living out of town would have made that difficult. It is so nice to have it all out of here!!!
~ 3 ~
Despite the fact that I injured my finger Tuesday, carrying that bag of corn pictured above, I was stubborn enough still able to make another Brown Scapular Cake (at the request of my children) to celebrate today's feast of Our Lady of Mount Carmel (our chosen patron for our homeschool).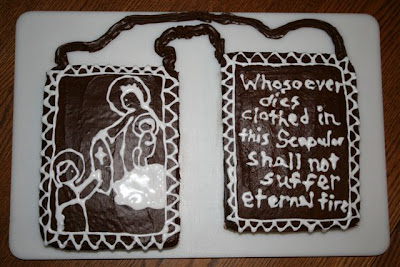 I also saw the doctor about my finger today. (Huge success surviving a LONG waiting period at the doctor's office this morning with a hurt finger and all five children. At least everyone in the office kept saying that I have the best kids ever… Oh and of course the one person that just HAD to ask "Don't you know what causes that?" ughhhh…) Apparently I did damage the nerves in my finger and am now sporting a bright pink finger brace. The good news is that it is my left hand and I can still use my other hand as well as take pictures!! 😉 The bad news is that it could take a few days, a few weeks, or forever to get better. However, if it is not better in 10 days the doctor will refer me to a Neurologist, in the meantime she wants me to avoid using it and keep it in the brace as much as possible. (What is it with me and hurting my fingers in the summer??) I had to laugh when she pulled out pink gauze to wrap the brace… She said it needed to match my pink shirt. I think it sticks out like a sore thumb! 😉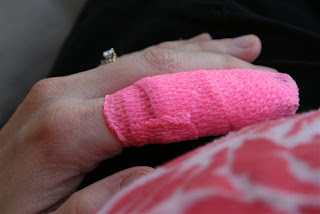 Oh and one last small success… I have not eaten all of that chocolate in my purse!
What are your Small Successes this week?