"It's important for moms to recognize that all the small successes in our days can add up to one big triumph. So on Thursday of each week, we do exactly that."
~ 1 ~

My little brother is MARRIED!!! My small successes that day were getting us all to the church on time (or rather early for that matter!), making an impromptu bouquet for Chiquita who was the flower girl, and setting up the forgotten cake!
We were also able to get a few family pictures, which really isn't a small success…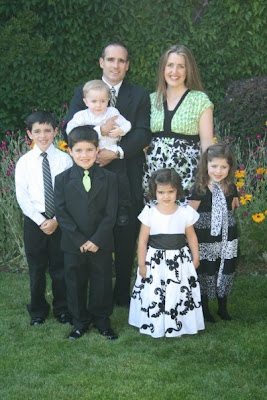 ~ 2 ~
I began the huge project of moving rooms around in our home: the school room to the nursery, the nursery to the girls room, the girls room to the boys room, and the boys to the old school room. What was I thinking??
The biggest success so far was moving the corner cabinet out of the old school room and into the new… I honestly have no idea HOW my dad and brother ever managed to get it in?? Hubby said that it was going to have to remain where it was but I finally convinced them (hubby and my youngest two brothers) to use the window! =)
I also have 10 bags of stuff to take to St. Vincent's in the back of my van plus 5 more bags went into the trash. I still have a long ways to go, but at least it's a start!
~ 3 ~
I made a few revisions and implemented last year's Ticket to Summer! The kids are LOVING it and so am I! It is so nice to have the older boys constantly finding ways to earn tickets (ie: read for 30 minutes; read to the younger children for 20 minutes; push Snuggles on the swing, etc…). The biggest change I made was with the "Good Behavior Drawing." This year they are each given a certain number of tickets (3 each) at the beginning of the week and they lose tickets for bad behavior. Whoever has tickets left at the end of the week gets to choose a prize from the prize basket. If they have all their tickets they will get to choose 2 prizes.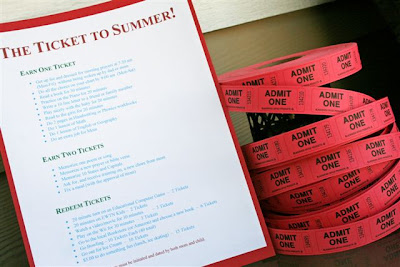 What are your Small Successes this week?