"It's important for moms to recognize that all the small successes in our days can add up to one big triumph. So on Thursday of each week, we do exactly that."
~ 1 ~

As of Tuesday night (one week after my little injury) my finger had still not improved at all since seeing the doctor. Since I have always had such great success with Arnica
(when my children get hurt/bruises), I decided to try taking Hypericum
(for Nerve Injury). My finger is already at least 60% better after just 4 doses and I was able to remove the splint! Homeopathic medicines are amazing!

~ 2 ~
I made it one year and one week with out having to pay for diapers (for Snuggles) thanks to a special promotion Amazon ran last year!! Even though it did take a bit of work to earn (I registered for everything from food, to school books, to all my children's Christmas gifts, to help earn the special), and a little adjusting to the "dirty" (chlorine-free) look of the Seventh Generation Diapers
, it was so worth it in the long run. I now have sticker shock from having to actually pay and budget for diapers again.
~ 3 ~
Inspired by Jen I set up an art center in my new school room. I was even able to find some cute little trifle glasses. I would still like to order some Modeling Beeswax (any suggestions for where to find the best price with low/no shipping?) for the girls to use this year as they study Along the Alphabet Path, and I also plan to replace the crayons and pencils with some of Jen's suggestions as ours get used up. I think it looks so pretty and my children just LOVE the easy access and are using it daily even though it is summer. It makes me smile every time I look at all the bright colors, nice and organized… Thank you Jen!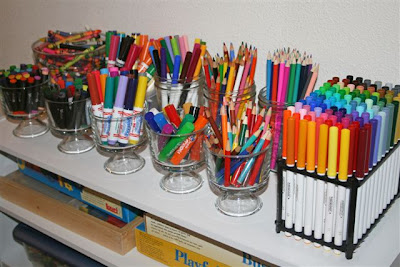 What are your Small Successes this week?