"It's important for moms to recognize that all the small successes in our days can add up to one big triumph. So on Thursday of each week, we do exactly that."
~ 1 ~

I survived our first week of swimming lessons and, despite a dead car battery yesterday morning — which was jump started minutes before we needed to leave by a neighbor we don't really know and who had still been sleeping (oops!), we did not miss even one of the children's classes. Snuggles is still not very happy to be in the pool (yeah, he SCREAMS the whole time!) but Chiquita is swimming wonderfully and was once again "diving" off the board today! Nevertheless, I am SO happy to be home this weekend knowing that I don't have to go back until Monday!!
~ 2 ~
I made great progress (with lots of help from Hubby and my friend Marci) on our home projects this past week. I posted pictures of some of what was accomplished including:
~ 3 ~
Inspired by Twinkle Toes' Godmother, who also uses Right Start Math, I organized all of our Math supplies.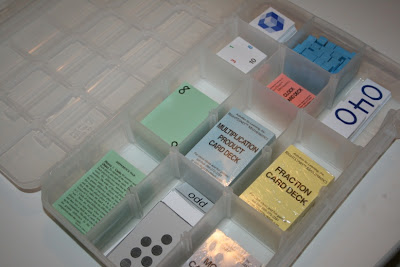 What are your Small Successes this week?
Stop by
Faith and Family Live
to read more of this week's Small Successes.
(I wrote this post yesterday afternoon, but forgot to click publish.)