"It's important for moms to recognize that all the small successes in our days can add up to one big triumph. So on Thursday of each week, we do exactly that."
~ 1 ~

I pulled out our favorite Shooting Star
, Groovy
, and Rocket
Popsicle Molds and made jello pudding pops! Yum!! (These are the BEST Popsicle molds and we have been using them for a few years now… They also qualify for Amazon's 4-for-3 promotion!!)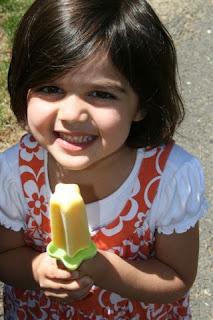 ~ 2 ~
I've continued working rearranging our home… I'm beginning to think it may take the whole month of July, or longer! My small success this week was being able to fill up 10 more bags of stuff to donate, and 2 more bags of trash, from the boy's old bedroom. That brings me to a total of 27 bags. Just 13 more and I will have doubled the "40 Bags of Stuff" we were able to get rid of during Lent. ☺
~ 3 ~
On Tuesday I took all 5 children with me to my monthly check-up so they could hear our new little one's heart beating, as well as see Linda, my midwife who has delivered all 5 of them! After my appointment we met two other families at the theater for a $1.00 showing of Horton Hears a Who
. This was the first time that most of our children had been to the theater, other than the IMAX theater we visited while we were at the zoo in Nebraska. It was nice that hubby and I could pre-watch the movie (which was pretty good other than a little jab at homeschooling which went over my children's heads…) and that it only cost $12.50 for all 6 of us including a giant refillable tub of popcorn! After the movie we spent the afternoon at a friend's home and then ran errands till hubby got off work. I then switched cars with him and went grocery shopping by myself. I ended up being gone from 7:30 am till nearly 8:00 pm, but I was able to get quite a bit accomplished.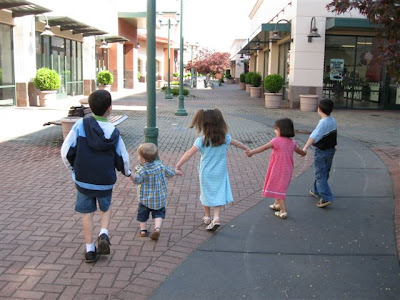 On our way to the movie theater…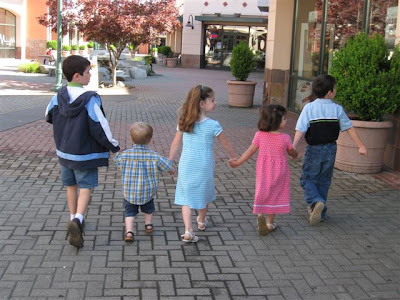 Walking past Cold Stone!
(And not one of them asked to stop!! Another small success??)
What are your Small Successes this week?