"It's important for moms to recognize that all the small successes in our days can add up to one big triumph. So on Thursday of each week, we do exactly that."
~ 1 ~
I painted a simple St. Vincent de Paul to add to our
Alphabet of Saints
! I can't believe it has been 14 months since I started painting and have yet to complete our set… Now that we are actually traveling the
Alphabet Path
, it is a bit more necessary to finish it up. Only about 5 more to go and I be done, at least with ours. I also started painting a set for my friend
Marci
, and gave her the first 6 today. I hope she isn't holding her breath for the remaining 20!! 😉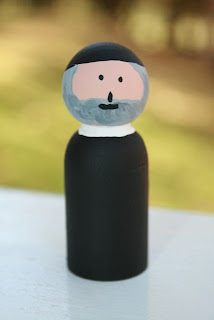 ~ 2 ~
I held our 4th Little Flowers Meeting this afternoon! We'll just be having one more meeting, in two weeks, before we take a 3 month winter/baby break. I'll try and share some pictures from today's meeting soon.
~ 3 ~
Even though Hubby has been gone all week, and has only been able to call home for a few minutes on Tuesday, I am still alive!! It has been a busy week, but I've managed to keep up with the laundry, the dishes, bathing children, and have even baked Apple Puff Pancakes for breakfast twice! Thank you to all of you who have been praying for me this week. I am sure it has made all the difference!
What are your Small Successes this week?