"It's important for moms to recognize that all the small successes in our days can add up to one big triumph. So on Thursday of each week, we do exactly that."
~ 1 ~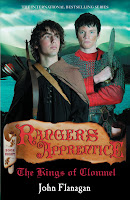 I found and purchased a paperback copy of Ranger's Apprentice Book 8 at Book Closeouts for only $2.24!    This book is not scheduled to be released until May 2010 here in the US according to the Pre-Order Page at Amazon
.  I wasn't sure if it would arrive with my order or not, but sure enough it arrived today, along with a number of other bargain priced books!!
~ 2 ~
I only spent $36.38 including shipping at Book Closeouts (using a coupon code for $5.00 off a $35.00 Purchase ~ Coupon: sunshine Password: bookcloseouts.com Expires: Nov 30, 2009 ) and my order included ALL of the following:
My children are going to be thrilled!
~ 3 ~
I made a Fire Safety Lap Book with my girls and talked (with all our children) about what we need to do if there is ever a fire in our home.  I will try and post a couple pictures of the Lap Book soon.
What are your Small Successes this week?