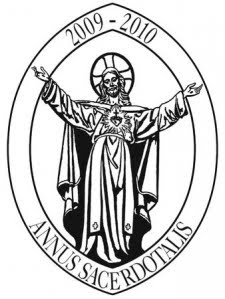 A couple months ago I hosted a giveaway for The Year for Priests Faith Folder.
If you have not purchased a copy yet, NOW is the time to do so!!  Lindy Meyer, owner of Faith Folders for Catholics, has dedicated this particular Faith Folder (Lap Book) to the memory of Ryan Barrett and will be generously donating 50% of the proceeds to the charities chosen by Ryan's family:
Many of you may already know the touching story of the Barrett Family. Their son, Ryan, suffered a grand mal seizure while on a father-son camping trip and passed away on August 13, 2009. If you haven't heard their story, please view the links below. Mary Ellen Barrett is a Catholic mom, wife, homeschooler, writer, blogger and has helped many through her writing. Ryan had a beautiful faith and was drawn to religious life. Despite his autism, many in his life wondered if he might have a priestly vocation. His death and the stories that have been shared since then are so touching and, to me, seem to reveal that this young man did indeed have a religious calling. I have been so touched by this family and their story that I am dedicating the Year for Priests Faith Folder in memory of Ryan Barrett and am donating 50% of all proceeds from its sale to the charities chosen by his family. Please visit the Year for Priests Faith Folder page for more information. If you have any questions, please feel free to contact me. Please pray for the Barrett family as they grieve the loss of their son, celebrate his life and discover God's plan for their family.
Mary Ellen, Ryan's mother, said that "at the funeral Mass the Bishop who confirmed Ryan asked us all to ask Ryan in heaven to intercede on behalf of vocations. Bishop Libasci said that we should wait for miracles from our "little priest"."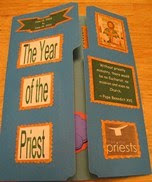 My boys are looking forward to starting this Lapbook even more now, since they were so deeply saddened by Ryan's death, even though they had never met him.
So, what are you waiting for, head on over to Faith Folders for Catholics to place your order.
(The lapbook is only $7.99, for regular family use!)  
Please keep the Barrett family and all of the families that have recently lost children in your prayers.  Thank you and God Bless!