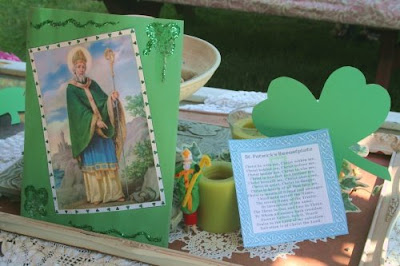 Each week my children get so excited when it is time for:
Summer with the Saints
Captain was especially excited this past week since the featured saint was St. Patrick, one of his patron saints!
Like always, Marci had lots of fun activities planned for the children and we all had a wonderful time. Here are a few pictures from our morning:
~ Coloring Pictures ~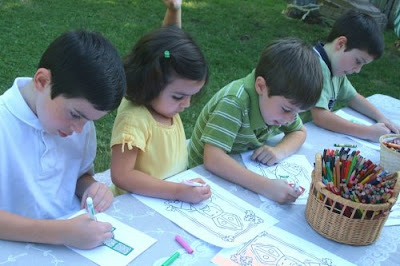 The children began the morning coloring pictures of either a
Celtic Cross
or
St. Patrick
, while Marci read them a short story about the life of this great saint.
~ Holy Cards ~
For the craft project Marci had ordered some Trinity Shamrocks from Oriental Trading for the children to put together. They turned out very cute!
What boy wouldn't LOVE tossing snakes from Ireland?!?!

My girls on the other hand couldn't get enough of Marci's new hammock swing!

~ Snack Time ~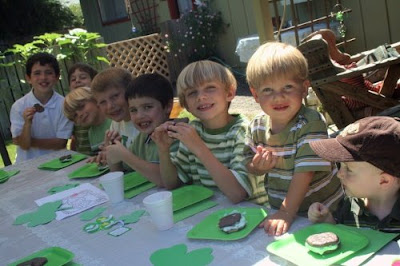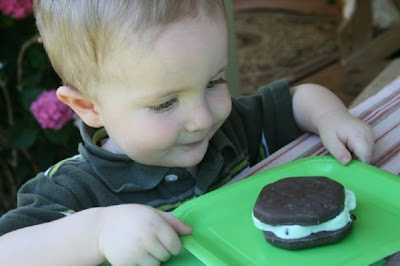 For a snack we had refreshing Ice Cream Sandwiches made with chocolate covered cookies and mint chocolate chip ice cream molded in a
scalloped bread tube
. I think I need to pull my Pampered Chef tubes out of the cupboard and fill them with ice cream!
~ Group Photo ~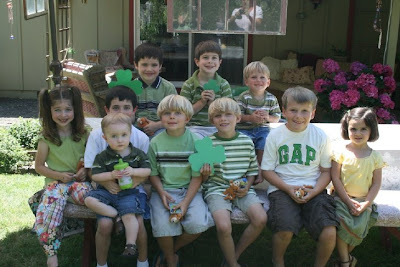 I loved that everyone showed up in green even though not everyone knew who the saint was going to be!
We are looking forward to another
Summer with the Saints
tomorrow, after swimming lessons!! (And
praying
that it
isn't really
the 112 degrees like the forecast is predicting… )
Saint Patrick, pray for us!