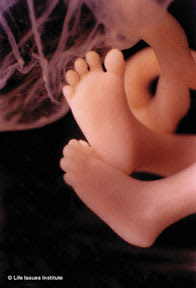 Our little one has been quite active lately and growing stronger.
Just a few minutes ago Twinkle Toes was able to feel her newest sibling give her a little kick on the hand.  The little one had to be persistent, but by kick #4 a big grin spread across Twinkle Toes face and she ran to tell her older brothers, who have not yet been so lucky.
It is hard to believe that this Friday will mark 20 weeks — the half way point!  It is going by so fast…   I still have so much to do, but yet I can hardly wait at the same time!
Photo Credit:  Life Issues