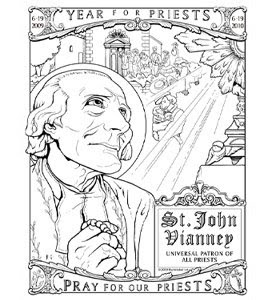 My children have been asking for some time when Illuminated Ink would be having another coloring contest. Well, according to their July news-eLetter they are having one right now in honor of the Year for Priests!
All entries must be postmarked by Saturday, May 15, 2010 to be eligible. There will also be five different age brackets to be judged: ages 0 – 4, ages 5 – 7, ages 8 – 10, ages 11 – 18, and ages 19 and up. 1st, 2nd, and 3rd places will be awarded in each age bracket, and the winners will receive an Illuminated Ink Gift Certificate. (Which can be redeemed for the products of their choice… complete with free shipping!)
Here is the link for all the details and to download the coloring page. Good luck!