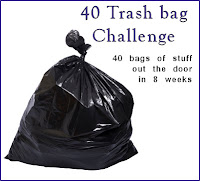 I can't believe that it has been a month since we started the 40 Bags in 40 Days Challenge! (I started early so that we could be finished before Holy Week.) We actually have been able to make better progress than I thought we would and, after the 2 bags I filled in the kitchen this afternoon, we are already up to 35 bags (including trash)!
To make it a bit more challenging I am considering not counting the 5 bags of trash and try to fill another 10 bags, instead of five. It's getting harder, but is so refreshing to let go of some of this "stuff" that I've hung on to for way too long.
Here's a quick look at what we've bagged up so far:
Boys Bedroom ::
4 bags of clothing
1 bag of trash
Girls Bedroom ::
2 bags of clothing and shoes
1 bag of toys
1 bag of trash
Hall Closets ::
2 bags of blankets
3 bags of baby blankets
1 bag of table linens
The Nursery ::
2 bags of baby clothing
2 bags of toys
Master Bedroom and Closets ::
1 bag of men's clothing
2 bags of women's clothing
3 bags of maternity clothing
1 bag of misc. items
1 rebounder
2 bags of trash
Bathrooms and Laundry Room::
1 bag of misc. items
1 big plastic drying rack
1 rug
Kitchen ::
2 bags of Kitchen Items
School Room ::
1 bag of trash
Living Room ::
Overall ::
27 bags of Stuff
3 Large Items
5 bags of Trash
For a Total of = 35 bags
It looks like I've saved the hardest areas for last:
School Room (I tend to hang on to everything here… including these two puzzles which drive me crazy and will probably be the first to go.)
Bookshelves (This is even harder, since I tend to save everything until I have time to resell it on Cathswap… Which hasn't happened since I started blogging! lol!)
Board Games (I've stopped buying more at least!)
Entertainment Center (Movies, CD's, etc… I got rid of a ton last year, but still have plenty more to go though.)
I also have more to work to do in my closet. (This is where most of our craft supplies are kept.)
With all that stuff to choose from it shouldn't be too hard to fill up 10 more bags. Yet then again…
So, how is the 40 Bag Challenge going for you?