In addition to our Ascension Thursday Picnic, we also celebrated the feast of the Ascension this weekend with Ascension Pancakes using our favorite recipe for homemade Buttermilk Pancakes. I actually did not eat any of them (I'm trying really hard to cut back on carbs, dairy and sugar.) but everyone else enjoyed them very much!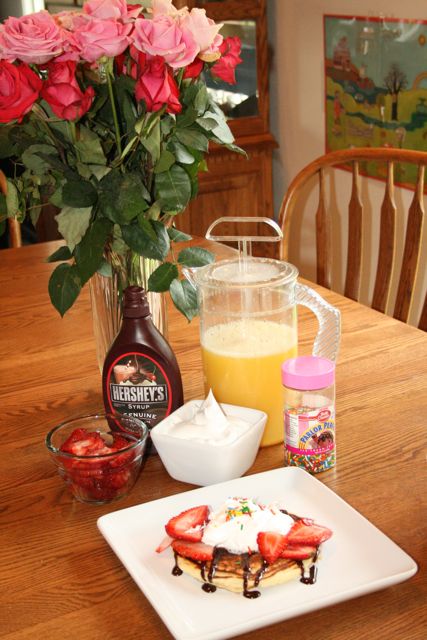 Pancake :: The earth Jesus walked on.
Fresh Strawberries :: The blood Jesus shed
Chocolate syrup :: The roads Jesus traveled.
Whipped topping :: The clouds our Lord ascended into.
Sprinkles :: The sweetness of life in Heaven.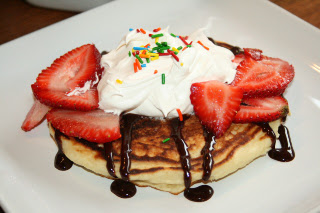 3 cups all-purpose flour
3 tablespoons white sugar
3 teaspoons baking powder
1 ½ teaspoons baking soda
¾ teaspoon salt
3 cups buttermilk
½ cup milk
3 eggs
⅓ cup butter, melted
In a large bowl, combine flour, sugar, baking powder, baking soda, and salt. In a separate bowl, beat together buttermilk, milk, eggs and melted butter. Keep the two mixtures separate until you are ready to cook.
Heat a lightly oiled griddle or frying pan over medium high heat. You can flick water across the surface and if it beads up and sizzles, it's ready!
Pour the wet mixture into the dry mixture, using a wooden spoon or fork to blend. Stir until it's just blended together. Do not over stir! Pour or scoop the batter onto the griddle, using approximately 1/2 cup for each pancake. Brown on both sides and serve hot.
* I doubled it this past weekend and we had way too many. I think a batch and a half is about perfect for our family.