Ever since posting links to Catholic Artworks, I've been receiving emails asking which of their CD's I purchased… I actually splurged and ordered their whole Teachers Helper Collection. It currently contains 21 CD's which are regularly priced $20 each, but when you buy the whole set they are discounted to only $10 each and home educators receive AN ADDITIONAL 50% off which drops the price to only $5.00 each!! I also purchased the Faith Keepers Combo for $15 (half of $30).
It was quite a bit to spend, but I have already gotten a LOT of use out of these CD's and am sure I will be using them for years to come. My two absolute FAVORITES are Teachers Helper #7 and the Faith Keepers Combo.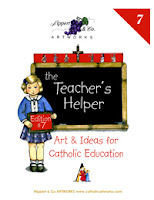 The Teachers Helper #7 has been the perfect addition to the Alphabet Path, since it includes the whole Saints Alphabet from An Alphabet of Catholic Saints
in both color and black & white, as well as with and without the names, and my girls have just loved coloring the saints to match the book and our own Alphabet of Saints!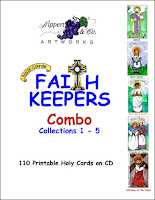 The Faith Keepers Combo is filled with images (also in both color and black & white) for printing Holy Cards, but I've been printing them out in larger sizes in black & white to use as coloring pages for various
feast days
, Little Flower
meetings
, and even in color for the girls Little Flower
Tote Bags
.
We've also made Mangers for Baby Jesus using Teachers Helper #2, Works of Mercy Flash Cards using #17, and a number of other little projects.
Another reason I wanted to post this today, is that I wanted to let you all know that I just found out that they are offering even MORE specials for Home Schooling Families this month!! It looks like I should have waited just a little longer to order and I could have gotten the Faith Keepers Combo for FREE. ☺
Hopefully some of you will be able to take advantage of their great New Year Special:
New Year Special for Home Schooling Families only!

Now until January 30th, you can get all 24 CD's of the Teacher's Helper (ideal for grades pre-K to 5) or all 24 CD's of the Creative Catholic (ideal for grades 6 and up) for only $120 ($5 a CD) or $200 for all 48! Not sure if you would like our series? You can order any of the editions below at $10 each (these prices are half off for Home Schooling Families, this is our way of supporting your holy mission!) and if you like them, you can use your purchase price towards the purchase of the rest of the series!

We are also offering our Discover the Rosary Mysteries "Discovery Pack Special" at more than Half Off! Scroll down to see this fabulous Home School teaching aid!

Also, if you order now, you will receive our Faith Keeper holy card maker CD (a $30 value) for FREE!
UPDATE: This special has been extended until the end of March!