A couple years ago, inspired by Charlotte, we started using Tomie dePaola's The Garden of the Good Shepherd Sticker Calendar to count the fifty days of Easter. In addition to placing the sticker on the Garden of the Good Shepherd Poster, and reading a coordinating bible verse and meditation, we would (almost always) do a fun craft, activity, or prepare a snack based on the symbol each day.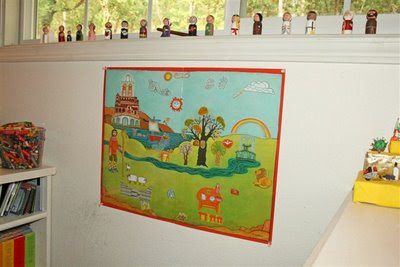 If any of you are interested in doing the same, I put together a page with links to all of my various Garden of the Good Shepherd posts which include lots of suggestions for each week. You can also find even more ideas over at Charlotte's blog.
Anyhow, as I mentioned earlier, my children really love this new Easter tradition of ours, and always look forward to the daily activities. However, to be honest with you, I just don't have the energy to pull off 50 DAYS of "something extra" right now. It was hard enough to stay motivated the past couple years (I would always lose momentum towards the end), not to mention that the Alphabet Path has been keeping us extra busy this year. That said, we have decided to do things a little bit differently this Easter season…
Here's the plan. We will still read the bible verse and place the sticker on the calendar each day, but instead of having an extra daily activity, at the end of each week (on either Friday or Saturday) we will combine them all (focusing on fun and yummy foods) into a
Good Shepherd's Garden Party!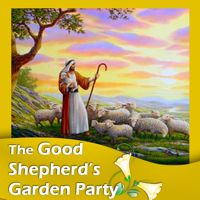 Weekly Themes:
Personally, I think this will be a really fun change for us this year, and simplify the planning process for me! 😉
Charlotte and I have been talking on the phone, and emailing back and forth, since we will be collaborating on this project! Yay!! Charlotte has the BEST ideas when it comes to party planning! Ooohhhh!!! It's going to be so much fun!
We would LOVE for some of you to join us, so we are already working on putting together the weekly menus, recipes, shopping lists, and readings, and we plan to post them at least a couple weeks before each party takes place. (The plans for the first week, The Good Shepherd's Pasture, will be posted later this week!)
My sister Julianna made the button for us (pictured above), and we also plan to post a Mister Linky at Catholic Cuisine each Monday (beginning on April 12th) so that everyone who participates can link up and share the pictures from their previous week's Good Shepherd's Garden Party!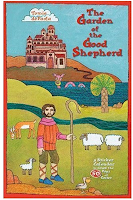 You do need to order your sticker calendar
soon, since Easter Sunday is less than two weeks away! I noticed that, since I posted the link in my Picture Books for Easter post, it has sold out at Amazon
… However, if you haven't ordered a copy yet, it is still available from Liturgy Training Publications.
As another alternative, Charlotte is planning on illustrating a set of the 50 symbols herself, which you'll all be able to download and print for your children to color and create their own Garden of the Good Shepherd Poster! Isn't she awesome!?!
So, is anyone interested? We'd love to hear if any of you think you might like to join us this year!!