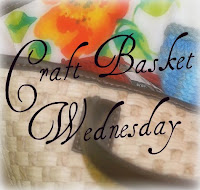 I'm so excited to actually be able to participate in my friend Amy's Craft Basket Wednesday this week!
This past week was "T" week for us Along the Alphabet Path, and even though I have already painted (quite a few!) St. Therese Dolls, I just had to paint another. 🙂
For the very first St. Therese I ever painted, I used a 2 3/8″ Little Person. I have also made some with the tiny 2″ Girl dolls as well. This time I decided to try painting one of the 3 1/2″ Dolls for the first time. It was just as easy (if not easier!) and will be less of a choking hazard for my littlest one. I took a picture with all three so you can see the size differences. All of these dolls can be purchased very inexpensively from Woodworks.
I probably could have added more detail, however, since I was painting with a wiggly 4 month old on my lap, I decided to keep it simple.
Since I already had all the paint supplies out, I couldn't resist my daughters pleas to add a St. Teresa of the Andes to our collection as well. I think I have mentioned before that we were so pleased when Ignatius Press recently rereleased
St. Teresa of the Andes
on DVD, and despite that it is in Spanish with subtitles, it is one of my girls new favorite movies.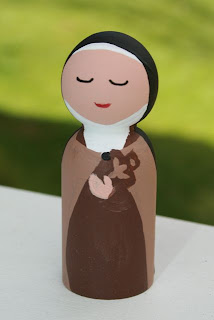 So, what crafts have you been working on lately?