I've had a couple emails asking for directions on how to make the Fairy House Birthday Cake I made for Chiquita's birthday, so here is a quick tutorial. It really was quite easy to make and this is coming from someone who had to be convinced to even try decorating a cake just two years ago! Of all the cakes I've made, this one and Captain's Tank Cake are my favorites. I'm so glad that my sweet friend convinced me to give it a shot and create such wonderful memories for my children.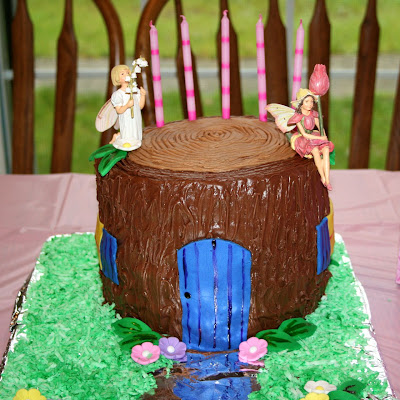 Ingredients:
4 – 8″ Round Cakes (I used two boxes of cake mix – 1 Milk Chocolate and 1 Triple Chocolate)
Milk Chocolate Frosting
White Frosting mixed with a little Creamy Peanut Butter to make a light brown Frosting
Coconut mixed with some Green Food Coloring for Grass
Fondant (I used blue, yellow, and green from this Wilton Multi Pack)
Food Decorating Gel (to paint accents on the door, windows, shutters, and leaves)
Sugar Flowers
Directions:
Trim the cakes so that they are nice and level. I'm sure there are better ways to do so, but I just used my long serrated knife. I did it quickly and if you look closely my cake is slightly slanted! 😉
Stack the cakes frosting between each layer. (I flipped them over so I was frosting the bottoms of each cake instead of the trimmed top, making it easier to frost .)
Frost the outside of the cake and a ring around the outside of the top with chocolate frosting. (Use a knife, or in my case clean finger) to add texture to the "bark."
Frost the top of the cake, inside the dark brown ring, with a light brown frosting.
If you'd like to add growth rings like I did, just use a fork to create multiple rings at once, starting at the outside of the circle and working your way towards the inside with just a dot in the very center. (My husband is a Forester, so this was very important! My children all counted the rings to see how "old" this tree was before it was cut down!)

Sprinkle coconut grass around the base of the house, covering your serving platter. (I covered my tray with foil first and then a trail making a pretty shining pathway leading up to the front door. Simple and cute!)
Decorate the Fairy House with a door, two windows, and shutters cut out from Fondant. Using a small paint brush and food gel, add accents. Cut leaves out of Green Fondant and place around the house for decoration. You can also add decorative sugar flowers as well.
I added a couple Cecily Mary Barker Flower Fairy Ornaments (purchased from The Turtle Trail) to the top of our cake. They are even cuter in person! They come with floral picks which make them quite easy to place securely on the cake.
I think that is everything?! If you have any other questions, feel free to ask in the comment box. Also, if you end up making this cake, I would LOVE to see pictures!!
Oh! And one more thing… Either invite lots of friends and family over for cake, or be prepared for start calling the neighbors! 😉