Sunday night Twinkle Toes and I decided to bake some pumpkin cookies for Columbus Day. We used a recipe that I had run across last year, over at Wee Folk Art, and the cookies turned out delicious (how could they not with a big scoop of cream cheese frosting on the top!) and everyone (especially Snuggles!) just loved the "pumpkins" on top! Don't you just love the fall?!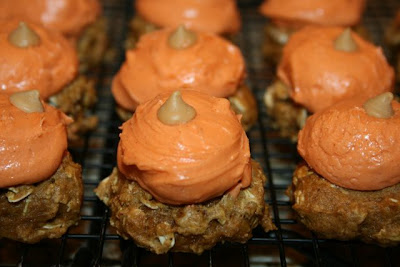 Pumpkin Thumbprint Cookies
~ Ingredients ~
Cookie:
1 cup canned pumpkin
3/4 cups brown sugar
1/2 cup white sugar
1/2 cup apple sauce
1 teaspoon vanilla
2 1/4 cup oatmeal
2 1/4 cup flour
1 teaspoon baking soda
1/2 teaspoon salt
1/2 teaspoon nutmeg
1/2 teaspoon ginger
1/2 teaspoon cloves
1 tablespoon cinnamon
optional 1/2 – 1 cup butterscotch chips (if you add chips omit the 1/2 cups white sugar)
Frosting:
1 – 8 ounce package of cream cheese, softened
1/4 cup butter, softened
4 cup powdered sugar
1 teaspoon cinnamon
1 teaspoon vanilla
optional – if you want to make pumpkins, enough orange food coloring to make a deep orange
optional – butterscotch chips for stems


~ Directions ~
Mix pumpkin, sugars, vanilla and applesauce. In a separate bowl, mix dry ingredients together. Add dry ingredients to applesauce mixture. If adding butterscotch chips, mix them in now.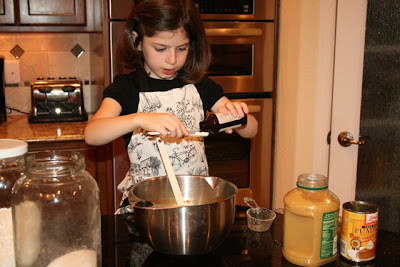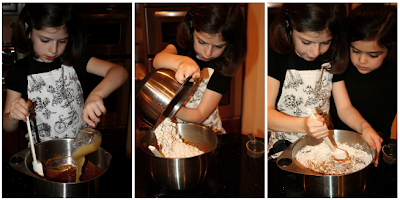 Drop tablespoon of dough on cookie sheet, leaving 2″ between cookies. Depress your thumb into the middle of the cookie. If you thumb is sticking to the cookie dough, dip it in flour first.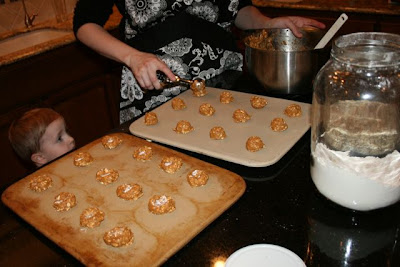 Bake at 350 degrees for about 10 minute (until brown). Allow the cookies to cool completely before frosting.
To make frosting, cream all ingredients, except butterscotch chips. For regular cookies, spoon frosting into your thumb's indentation. If making the pumpkins, use a cookie scoop, and mound the frosting on each cookie. Top with a butterscotch chip for a stem.
Recipe makes 5 dozen cookies. If you are making pumpkins on top of the cookies, you will only have enough frosting for 3 1/2 dozen cookies. (We used the cookie scoop for 1/2, and then made much smaller pumpins on the other half with my cupcake decorator. We were able to decorate all the cookies this way, with a little frosting to spare.)
Note: Since there is cream cheese in the frosting, refrigerate until time to serve.