I'm just a little bit late in participating in Emily's Kitchen edition of her Favorite Fives, especially considering her next edition is coming up tomorrow… I just thought that since I am often overwhelmed by my kitchen, it would be fun to focus on the favorites!
~ One ~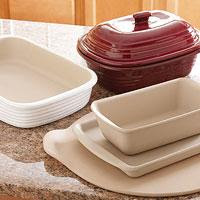 First on my list of favorites is my Pampered Chef Stoneware. I have almost all of the different stones, and love them all. In fact, the Rectangle Baker, Rectangle Stone, Large Bar Pan, Pizza Stone, and Muffin Pan could easily be listed as all five of my kitchen favorites, so I am grouping them all together. 😉 The stoneware does an excellent job of evenly distributing the heat from my least favorite item lovely oven, and prevents me from burning everything.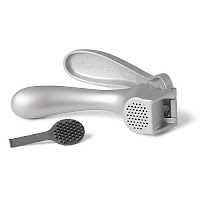 I also LOVE my Pampered Chef Garlic Press. It works so great that you don't even need to peel the garlic cloves first (though I usually do anyways.). Gosh, I could just go on and on when it comes to Pampered Chef… I love my Coffee & More Mugs, Batter Bowls, Mixing Bowls, Prep Bowls, Trifle Bowl, Scoops, Timer, Food Chopper, Pizza Cutter, Ice Cream Scoop, Cheese Knife, and Scrapers to name a few. Just don't ever purchase one of their can openers, unless you need to work on the virtue of patience, and maybe not even then! 😉
~ Three ~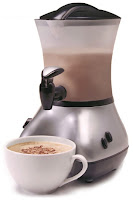 I'm sure there is probably a better one out there, but I just love my little
Cocoa-Latte Maker
. I use it nearly everyday to make Soy Chai Tea. Yum!
~ Four ~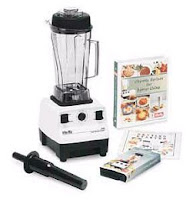 I guess, my Vita-Mix
would come next. (Mine is a 5000, which I splurged purchased years ago from Costco) Have you ever used one? It's awesome for making smoothies, of course, but also makes great ice cream, soups, salsas, and even baby food. Not to mention, it is super easy to clean. A huge bonus since I already spend too much time washing dishes.

It's a toss up between my griddle and my crock pot, but I use the
Griddle
quite a bit more, so it wins. I use it multiple times each week, especially considering I only have three working burners on my range.
(It is truly time for our kitchen remodel… I couldn't be more excited to be at least starting the process!)
~ Bonus :: On my Wishlist ~
I'd love to hear any feedback from you all on these kitchen items which I have on my wish list, though I don't plan to purchase any of them (except perhaps the cake mold) until we've completed our kitchen remodel…
Well, now that I have spent way too much time focusing on my favorites, I am off to the kitchen to see if I can fill another bag (or two!) towards that
40 bag challenge
…