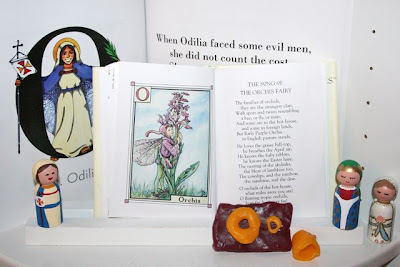 In addition to their
Modelling Wax
letter O's, the girls also worked on making the letter O using Handwriting Without Tears
Hands-On Materials
and Kimberlee's
Grey Block Paper
.
~ Orchis Fairy Coloring Pages ~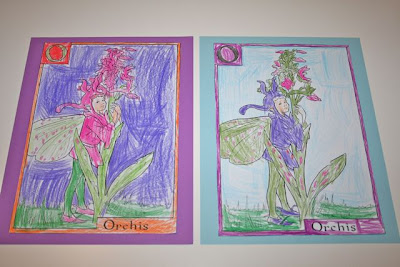 From this
Coloring Book
(While looking at the Flower Fairies Alphabet
book and listening to the CD!)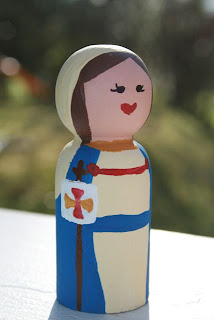 Our
Painted
Saint Odilia
for with
An Alphabet of Catholic Saints
I finally painted a couple more saints to add to our collection: Saint Odilia and Our Lady of Altagracia (pictured below). MUCH harder to do with a little baby who wants to be fed constantly, so this was a HUGE success! 😉
~ Picture Book Science :: O is for Ocean ~
What Lives in a Shell? (Let's-Read-and-Find-Out Science 1)
What's It Like to Be a Fish? (Let's-Read-and-Find-Out Science 1)
Underwater Counting: Even Numbers
Reading Rainbow: Ocean Life
EAT:
An Ocean Octopus Lunch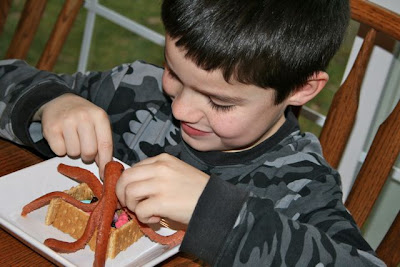 Directions:
Cook your hotdog and then cut it lengthwise into eight parts (legs) leaving an inch or so for the head. (I only had Hebrew National Hot Dogs, so was only able to cut it into six legs.)

Break apart 1 graham cracker and use peanut butter to "glue" the four pieces together. Fill the "Treasure Chest" with anything you want. I used raisins and fruit snacks.

Drape Mr. Hotdogtopus over the Treasure Chest. Cut a raisin in half and use the sticky side to adhere it to the hotdog for eyes.
MAKE:
Or rather we PLANNED to make
Octopus Handprints
but never did get around to it…
~ O is for Owls ~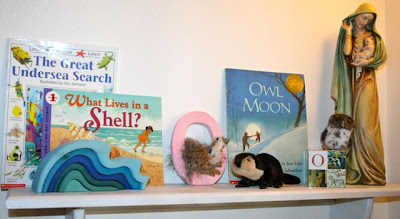 Owl Moon
by Jane Yolen
The Owl and the Pussycat
by Edward Lear
Owl Coloring Page
Mini Spotted Owl Finger Puppet by Folkmanis
Mini Ostrich Chick Finger Puppet by Folkmanis
I had a few ideas for owls from our Garden of the Good Shepherd Activity Plans, and I also considered making Charlotte's adorable Owl Cupcakes, but we ended up making Cookies and Sandwiches instead. It was such a HOOT! 😉
Owl Cookies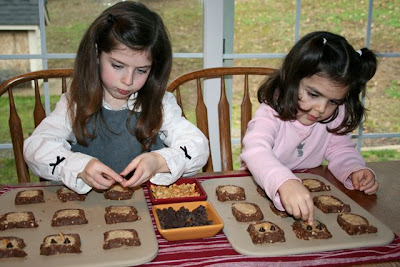 (I love the "OWL" on the fridge — I didn't notice until taking the picture!)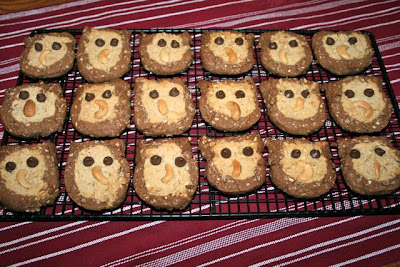 I found these yummy cookies
here
.
Owl Cookies

1 1/3 cup shortening, (or margarine) soft
2 cups firmly packed brown sugar
2 eggs
2 tsp. vanilla
2 cups crunchy peanut butter
2 2/3 all-purpose flour
2 tsp. baking powder
1 tsp. salt
2 cups oatmeal
2 1-oz envelope no-melt chocolate (I use 6 tbs. of cocoa powder mixed with 2 tbs. of oil or melted butter instead.)
Semisweet chocolate chips
Whole cashews

Combine shortening and sugar; beat until creamy. Add egg, vanilla and peanut butter; blend thoroughly. Sift (or just combine) flour, baking powder and salt together. Add to creamed mixture; blend well. Stir in oatmeal. Divide dough in half. Shape one half to form two rolls, each 8-inches long. Add chocolate to the remaining dough. Roll out chocolate dough on waxed paper to form two 8-inch squares. Place one roll on one square of chocolate dough. Wrap chocolate dough around roll; pinch seam together. Repeat for the other roll and square. Wrap in waxed paper; chill for at least 1 hour. Let stand at room temperature for 10 minutes before cutting. Cut into 1/4 to 1/2 inch slices. Pinch chocolate dough to form 2 ears for each owl face. Use 2 chocolate chips for eyes and 1 cashew for beak. Place on ungreased cookie sheets. Bake in preheated 350-degree oven for about 12-15 minutes. Don't stack until the eyes have hardened!
Owl Sandwiches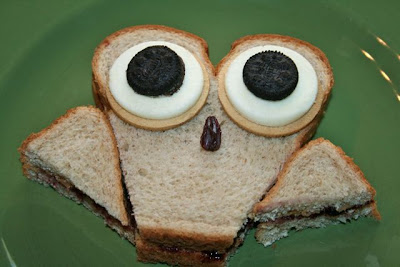 "Make any sandwich you would like and then cut the sides off as shown. Take the pieces and flip them backwards to make them fit as shown. Cut a large marshmallow in half for the base of the eyes. Cut a raisin in half for the eyes, and another raisin for the beak."
* I was out of Marshmallows, so we used Oreo's (Golden and Mini) instead, which I think turned out even cuter!
~ Other ~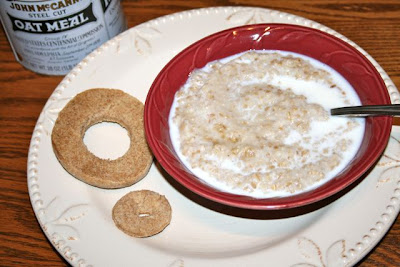 We also had Oatmeal, Omelets, Cherri-O's, Oranges and Olives!