It has been a super busy weekend with Hockey lessons on Saturday and Rascal's birthday yesterday, but I did have a chance to upload some pictures from "P" week! We took last week off and are starting "Q" week today. Monday's have been pretty crazy around here lately, so I better get busy… Hope you all have a great day!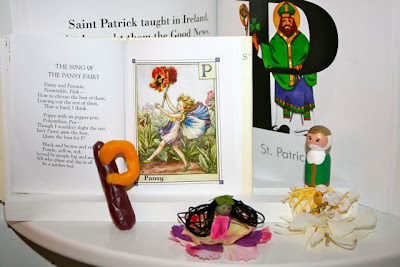 ~ Letter Formation ~
In addition to their
Modelling Wax
letter P's, the girls also worked on making the letter P using Handwriting Without Tears
Hands-On Materials
and Kimberlee's
Grey Block Paper
.
~ Pansy Fairy Coloring Pages ~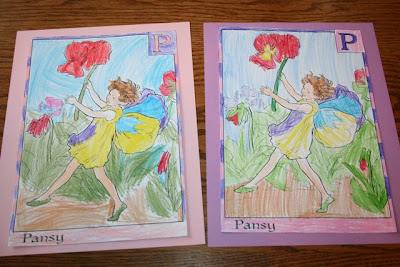 From this Coloring Book

(While looking at the Flower Fairies Alphabet
book and listening to the CD!)
~ Picture Book Science :: P is for Penguins ~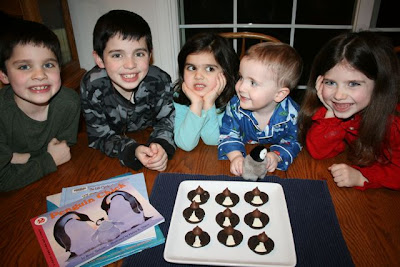 A Penguin Story

The Life Cycle of an Emperor Penguin

Penguin Chick (Let's-Read-and-Find-Out Science)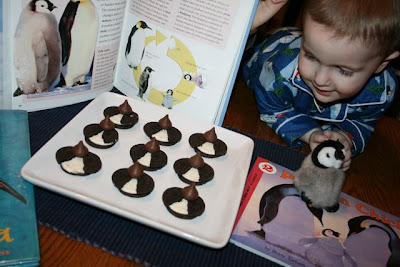 and super easy Penguin Oreo Cookies
(Since we had extra Oreos from "O" week!)
Learn to Draw a Penguin from:
Draw Write Now, Book 4: The Polar Regions, Arctic, Antarctic
Watch:
March of the Penguins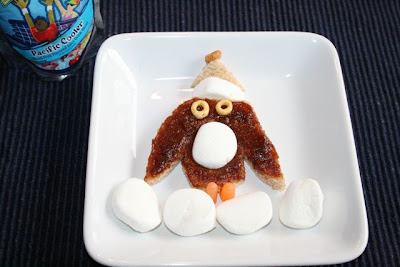 I also loved these Penguins made from Eggs,
although I never did get around to making them during "P" week.
~ Picture Study :: P is for Peacock ~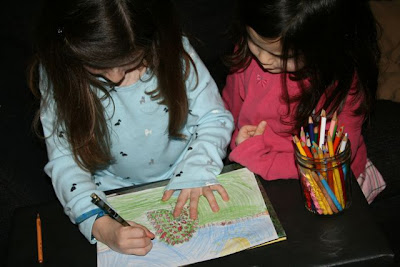 The picture in Museum ABC
and on the matching Museum ABC Nesting Blocks
is of a Peacock. Instead of copying the picture this week, the children learned how to draw a Peacock using this tutorial: How-to-draw a Peacock.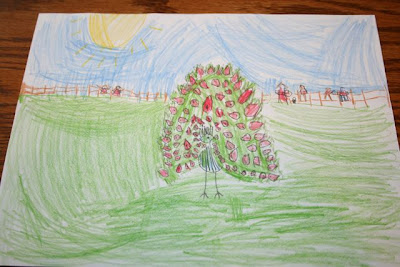 by Twinkle Toes (age 6)
We also read:

The Peacock's Pride
Bees, Snails, & Peacock Tails: Patterns & Shapes . . . Naturally
~ P is for St. Patrick ~
Our
Painted
Saint Patrick,
for with
An Alphabet of Catholic Saints
Patrick: Saint of Ireland

The Story of Saint Patrick

Saint Patrick
by Ann Tompert
Saint Patrick
by Father Lovasik
St. Patrick's Day Alphabet

St. Patrick's Day
Patrick – Brave Shepard of the Emerald Isle
St. Patrick Cookies (using our St. Nick Cutters)
Shamrock Cookies (using this
cookie cutter)
Shamrock Toasties
Recipe at Catholic Cuisine
Sweet Shamrock Pretzels
Recipe at Catholic Cuisine


My children loved both the Shamrock Toasties and the Pretzels. They were super easy too! I'm going to keep them both in mind for St. Patrick's Day next month.
~ P is for Pope ~
Joseph and Chico: The Life of Pope Benedict XVI as Told By a Cat

Max and Benedict: A Bird's Eye View of the Pope's Daily Life
We "painted" Pope Benedict, Max and Chico Sugar Cookies! 🙂
Karol from Poland: The Life of Pope John Paul II for Children

Joseph from Germany: The Life of Pope Benedict XVI for Children

(looks like the boys need new Pants!)

We also read another new book we received for Christmas:
Lolek – The Boy Who Became Pope John Paul II
While I was busy reading aloud the kids all colored pictures of:
Pope John Paul II and Pope Benedict
~ P is for Petal People ~
Fairies: Petal People You Make Yourself (Klutz)
~ P is for Purity and Pink Princesses ~
Princess & the Kiss: A Story of God's Gift of Purity

The Princess and the Kiss: The Three Gifts of Christmas
Pink Princess Pudding from the
Pink Princess Cookbook