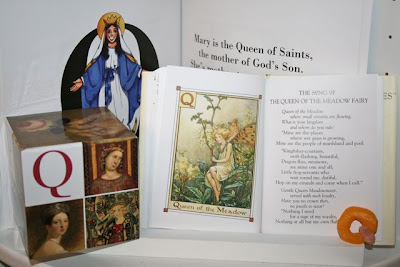 ~ Queen of the Meadow Fairy Coloring Pages ~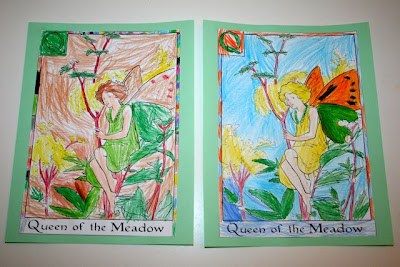 From this Coloring Book

(While looking at the Flower Fairies Alphabet
book and listening to the CD!)
~ Picture Book Science :: Q is for Quarks ~
We didn't do that much with Science this week other than learn about Quarks! I didn't have any picture books to read on the topic, but the girls really enjoyed this coloring book. It is also available to "color" online if you'd rather not print it out.
We also talked about Quarters
!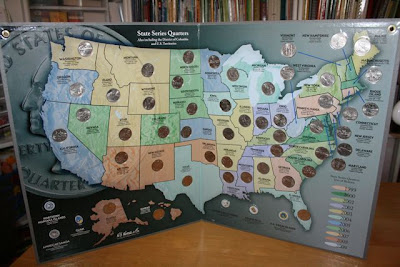 ~ Picture Study :: Q is for Queen ~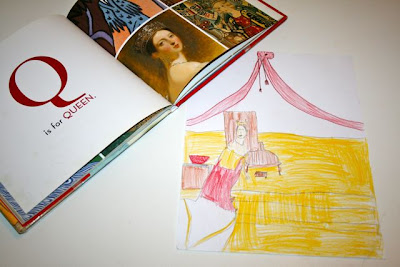 From Museum ABC
and Museum ABC Nesting Blocks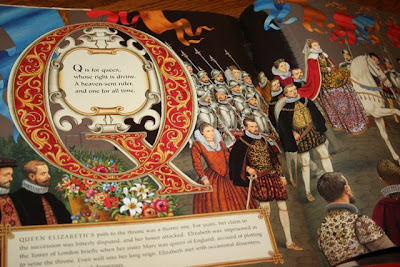 "Q is for Queen, whose right is divine.
A heaven-sent ruler, and one for all time."
While on the topic of Queens, we also read The Queen's Progress
, Queen of Hearts, and the Queen of Hearts Nursery Rhyme, then made Queen of Heart Tarts!
The Queen of Hearts she made some tarts all on a summer's day;
The Knave of Hearts he stole the tarts and took them clean away.
The King of Hearts called for the tarts and beat the Knave full sore
The Knave of Hearts brought back the tarts and vowed he'd steal no more.
~ Q is for Queen of All Saints ~
Our
Painted
Queen of All Saints
(aka Our Lady of Altagracia, since I didn't have a chance to paint another…)
for with
An Alphabet of Catholic Saints
The girls colored the Mary Queen of All Saints pictures from Our Saints Alphabet on CD and did some copywork from An Alphabet of Catholic Saints
.
(You can print the one I made
here
.)
We also read the beautiful book Take it to the Queen
, colored a Queenship of Mary coloring page, and did a bit more copy work from God's Alphabet
:
"Q is for Queen
of both angel and saint
Mary Immaculate
pure without
taint"
~ Q is for Quiz ~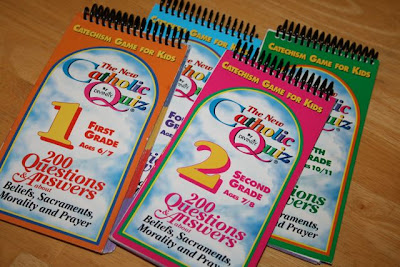 ~ Q is for Quilts ~
I went a bit overboard checking out books about quilts from the library (in addition to the ones already on our shelves!) and we are still enjoying them! Our favorites (so far) have been The Quiltmaker's Gift
, The Quiltmaker's Journey
, and The Promise Quilt
. In fact, they proved to be very inspiring towards filling those 40 bags of stuff for the poor!!
Quilt of Saints
I considered purchasing this kit
or this kit
, but since we already made blankets during B week, we just made Paper Quilts of favorite saints.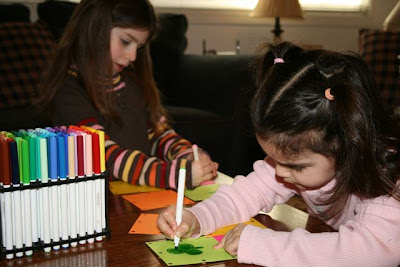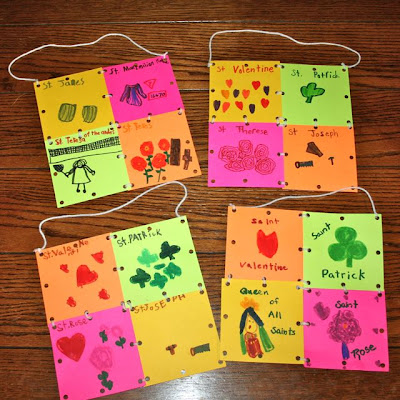 by Captain, Rascal, Twinkle Toes and Chiquita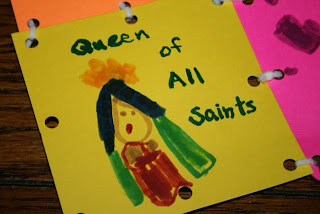 Queen of All Saints by Chiquita
Petit Four Quilt
(Recipe from Heart to Hand: Quilt talk with Wendy)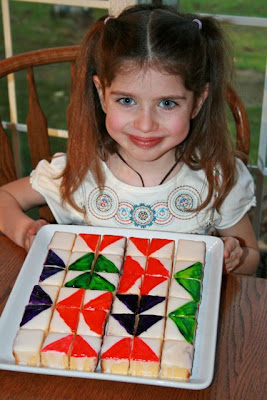 Q-Tip Painting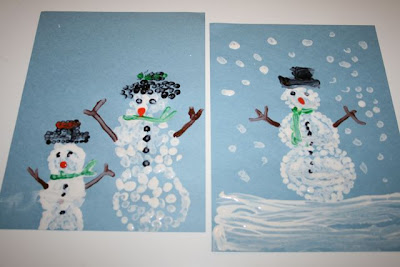 Q-Tip Dandelions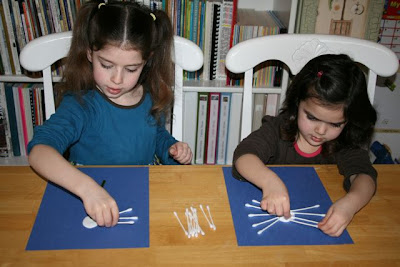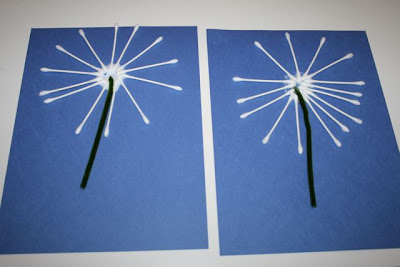 (This picture was taken before the girls added a cotton ball to the center… Looks like I forgot to take a final picture. You can see one at No Time for Flashcards.)
We also enjoyed Quaker Oat Meal, Quesadillas, and Crustless Spinach and Mushroom Quiche!
After nearly quitting "Q" week, we ended finding lots to do and enjoyed every minute! Nevertheless, I was Ready to move on to "R", and Roses, Rainbows and Red Raspberry Tea Sandwiches!
P.S. I'm not sure why when I publish this post, it is the only one that appears on my homepage? I had this same problem after my last Alphabet Path post…