Looking back a couple weeks, here are some pictures from "U/V" week. I can't seem to find any of the girls completed coloring pages and worksheets for this week. I set them aside to photograph, and now I can't find them. . . It looks like I've developed a habit of hiding things from myself!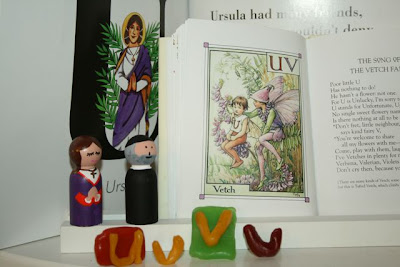 ~ Vetch Fairy Coloring Pages ~


The girls made the letter U & V with
Modeling Wax
, as well as some Umbrella's and Volcanoes. It looks like I forgot to take a picture though! They also colored the Vetch Fairy from the
The Flower Fairies Alphabet Coloring Book
and listened to
A Flower Fairy Alphabet
on CD.
~ U and V are for St. Ursula and St. Vincent de Paul ~
Here are our
hand-painted
saint dolls for with
An Alphabet of Catholic Saints
.
They also colored St. Ursula and St. Vincent Coloring Pages from Catholic Artworks and completed some
copywork
, which I created at Writing Wizard using the quotes from
An Alphabet of Catholic Saints
.
We thought about making Vestments, but since I suggested this craft to Marci for her Summer with the Saints (which will start next month) we decided to wait.
Have I mentioned lately how much I LOVE the book God's Alphabet
?!? It is such a great book!! Here is the quote for "V" week:
V
is for
VICTORY
each child must
win
In his own little heart, against
Satan and sin.
~ Picture Book Science :: V is for Volcanoes ~
Since my boys had been studying Mars, and were planning to make Mons Olympus – the largest Volcano in the solar system – for Astronomy, I decided to have the girls study Volcanos as well this week.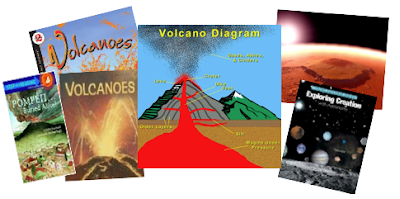 Here are the books we read about Volcanoes:
Volcanoes (Let's-Read-and-Find-Out Science 2)

Volcanoes, Level 2: Internet Referenced
Pompeii…Buried Alive! (Step-Into-Reading, Step 4)

Exploring Creation With Astronomy
Volcano & Earthquake (DK Eyewitness Books)
Volcano Maze (pdf)

We added sound effects to a video clip of our volcano!
~ V is for Veggie Volcanos ~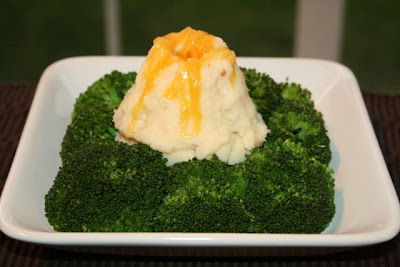 Since we've been enjoying lots of treats during our weekly Good Shepherd's Garden Parties, I am trying to choose mostly healthier "treats" as we finish up the Alphabet Path. This week we snacked on Uncooked Vegetables and made Potato Veggie Volcanos (adapted from Big Snacks, Little Meals: After School, Dinnertime, Anytime
) since I had some broccoli that needed to be used up in the fridge. These were SO easy and such a hit with my children!
All I did was place a "mountain" of hot mashed potatoes on top of some freshly steamed broccoli. I then made a well in the top of the mashed potatoes for the opening of the volcano and then topped it with grated cheddar cheese, which quickly melted to look like lava flowing from the top of the volcano.


We've since worked our way through "W" week and have moved on to "X/Y". It looks like me might be able to finish the Alphabet Path this year after all!