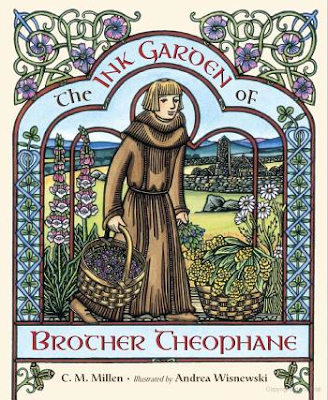 "In the mountains of Mourne, up twisted old bends,
past blackberry brambles and ancient wood glens,
there stood a tall tower – a circle of stone-
where holy men lived, wearing simple brown robes,
filling simple brown books, eating simple brown bread,
and saying their prayers by their simple brown beds.
They all looked alike, they all seemed the same,
except for the brother they called Theophane."
~
The Ink Garden of Brother Theophane
A couple weeks ago, my husband and I were browsing through a gift shop after we attended a Pride & Prejudice play for our anniversary. We ran across a picture book by C.M. Millen,
The Ink Garden of Brother Theophane
. I hadn't heard of it before so I opened the cover to see when it was published, and sure enough it was only recently published this past July!
It is absolutely lovely!
The story is about the youngest monk, Brother Theophane, who lives in a small medieval Irish monastery where the monks work quietly side by side, copying manuscripts with plain brown ink. Brother Theophane is easily distracted by the beauty of the world outside his window that he is sent outside to work: boiling bark to make ink. Inspired by the stains from the blackberries, he starts experimenting with berries, roots, twigs and leaves to make various colors of ink! Soon the monks were using the colorful ink for their manuscripts.
"Heavenly hues now covered their pages
and filled their bright books with colorful phrases."
The book is delightful to read and the detailed illustrations are beautiful.
I purchased this book to give to one of my children on the Feast of St. Nicholas this year
(one of our family traditions is to give each of our children a new christmas and/or saint books on this feast)
, but let's just see if I can keep it packed away that long! I am dying to read it to my little ones…
P.S.
Amazon sells this great picture book
for much less than I paid at the bookstore! Even less if you buy a used copy… Either way, it is totally worth adding to your home library!