"It's important for moms to recognize that all the small successes in our days can add up to one big triumph. So on Thursday of each week, we do exactly that."

~ 1 ~
I've been thinking about an inspiring quote
Elizabeth
shared on Facebook earlier this week:
"Wisdom enters through love, silence, and mortification. It is great wisdom to know how to be silent and to look at neither the remarks, nor the deeds, nor the lives of others." St. John of the Cross
I really need to work at being silent… Even though I am not planning on giving up blogging for Lent, I will be cutting back, reading less, commenting less and staying off Facebook. I've been needing to drastically reduce the time I spend online for awhile and Lent has presented the perfect opportunity. It has been less than two days, and I am already noticing a difference in how overwhelmed I'd been feeling.
~ 2 ~
Spending less time online (and making sure to go to bed by 10pm, another goal for Lent) has allowed more time for prayer and exercise!
This morning, by 9:30, I had said morning prayers, walked a mile, fed everyone breakfast, dressed the kids, the boys had completed Math and Language Arts, and the car was loaded for a quick trip to town to give my Dad his birthday present. I don't remember the last time I've been so productive in the morning!
~ 3 ~
I've been spending lots and lots of time snuggling with our little Rose, who is still coughing and congested, but getting better. I'm glad that she has her two month check-up tomorrow and her doctor can listen to her lungs just to make sure.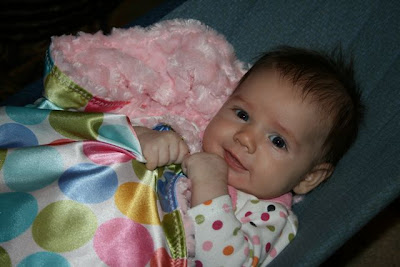 Isn't she CUTE with all those DOTS and that precious smile!?!
I do have some photos to post for Lent, but they will have to wait… My time is up! The boys are off to Blue Knights and the girls and I have some Quesadillas to make, since we have now resumed "Q" week.
I hope you all have a Blessed and Holy Lent!