It isn't often that my husband and I get out without any of our children. (It took 10 years for us to have an overnight/weekend getaway!) We are just not very comfortable leaving our children with babysitters, and, since I don't supplement with bottles, I can never be very far away from my nursing babies. I suppose the nice thing about our rare "dates" is that when we DO go somewhere together without our children, it is usually super special and such a treat!
That said, I wasn't expecting more than just the nice day we had at home, and cooking meals in our new kitchen, for our anniversary this year. That was truly more than enough!!! Nevertheless, my husband surprised me with tickets to go and see PRIDE & PREJUDICE (just my absolute favorite classic/fiction book!) on stage at the Oregon Shakespeare Festival!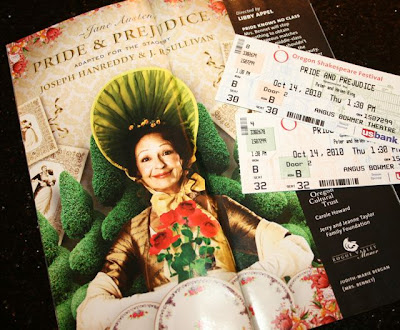 It was WONDERFUL!!!!!
Due to our rather tight budget at the moment recent remodel, we had the most inexpensive seats, but as the lady at the box office pointed out, "there isn't a bad seat in the theatre" and she was right! We were in the second row on the far right, and it was perfect. (And we didn't have to feel guilty over spending too much!)
I wondered how they would be able to condense the story into a 3 hour play, but must say that the directors did an excellent job and the play was charming! (I am sure it helped to know the plot.) The actors all portrayed the characters just as I would have imagined from the book and, I must add, "Mr. Collins" was the best EVER! He had us laughing almost every time he was on stage!
The music was lovely and the dancing was SO. MUCH. FUN. to watch. Oooohhhh! And the COSTUMES!! I loved, Loved, LOVED them!! I left wanting to go and find myself a new dress and matching bonnet! 😉
Afterwards we stopped for a delicious (early) dinner before heading home to our little ones, who all did just fine while we were out!
Thank you, Hubby, for yet another thoughtful and memorable gift!
I'm so blessed. You're the best!!