*I know it is all very similar to what we have done in the past, however this blog is mainly a scrapbook (of sorts) for my children, and a place for me to record what we have been up to, so I apologize if I seem repetitive. 🙂
Our oldest three children, who were all sick on Holy Thursday, were very pleased that we were having another Lenten Tea for our meal on Good Friday. It was originally inspired by Alice and very similar to the one we had last year.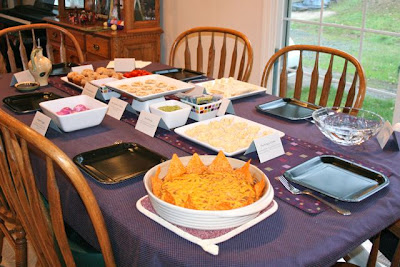 Hubby read from the Bible (Mark chapter 15) while I served each item:
My children wanted to use the bowl to wash their hands, instead of using the water to drink.
"Pilate took water and washed his hands before the crowd saying, "I am innocent of this righteous man's blood." Matthew 27: 24
~ The King's Crown ~
I used Tostitos"Scoops" once again…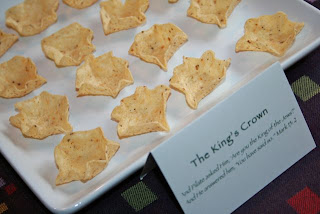 … in addition to a bean dip "Crown"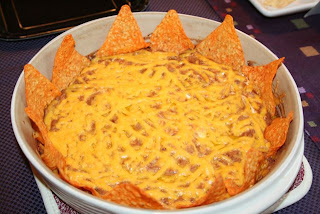 "And Pilate asked Him, 'Are you the King of the Jews?' And He answered him, 'You have said so.'" Mark 15: 2
~ Out of Envy ~

"[H]e perceived that it was out of envy that the chief priests had delivered Him up." Mark 15: 10
"And they clothed Him in a purple cloak . . . ." Mark 15: 17
~ The Crown of Thorns ~
I KNOW I purchased Ritz crackers and pretzels, but I can NOT find them! Thankfully I still had some Rice Crackers left over from Holy Thursday and used Rice Krispies for the thorns.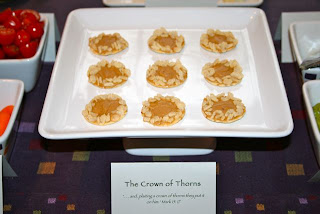 ". . . and, plaiting a crown of thorns they put it on him." Mark 15: 17
~ Golgotha Eggs ~
In addition to using the Rice Krispies above, I was inspired to dye our Golgotha Eggs this year by Eileen, who has been doing this Tea for their Good Friday meal for years now. It took a little bit more time, but my children really enjoyed drawing the sculls and dying the eggs.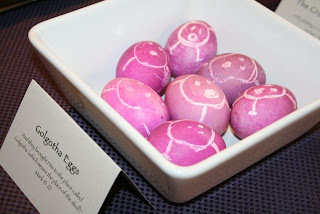 "And they brought Him to the place called Golgotha (which means the place of the skull)" Mark 15: 22
Once again, flour tortillas and cheese cubes were quick and easy. My children ended up making themselves each a burrito with the bean dip, guacamole, and tomatoes.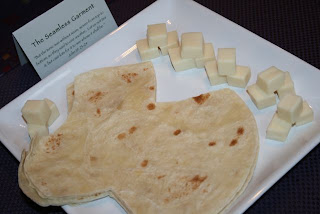 "But the tunic was without seam, woven from top to bottom; so they said to one another, 'Let us not tear it, but cast lots for it to see whose it shall be.'" John 19: 23-24
I didn't have any luck finding fresh Basil, and I didn't even have any Spinach this year, so I just served each child 2 Baby Carrots to represent the two Robbers. Maybe one of these years I will actually be able to use Basil.. If not perhaps Pesto Bruschetta would work well!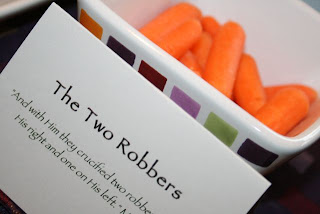 And with Him they crucified two robbers, one on His right and one on His left." Mark 15: 27
"And one ran and, filling a sponge full of vinegar, put it on a reed and gave it to him to drink, saying 'Wait, let us see whether Elijah will come to take Him down.'" Mark 15: 36
Like last year, I cut 50 tomatoes in half, to represent the 100 Roman Centurion. We still had leftovers.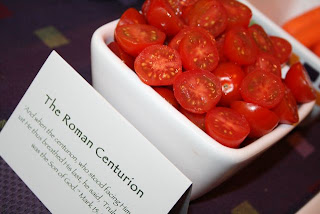 "And when the centurion, who stood facing Him, saw that He thus breathed His last, he said, 'Truly this man was the Son of God.'" Mark 15: 39
~ Laid in the Tomb ~
Like last year, I made muffins and filled the middle with a little jam.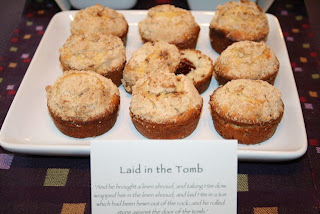 "And he brought a linen shroud, and taking Him down, wrapped him in the linen shroud, and laid Him in a tomb which had been hewn out of the rock; and he rolled a stone against the door of the tomb."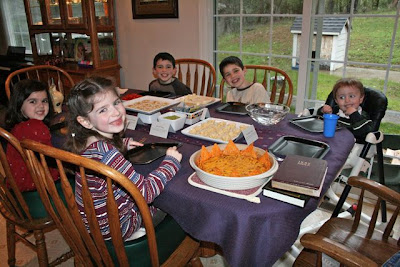 You can visit
Cottage Blessings
for the Bible readings, recipes and shopping list.
And when I was making the cards for our Holy Thursday Tea, I also created small card stock signs for each of the dishes in our Good Friday Tea as well, including the short Bible quotes Alice provided. I uploaded the
document
I made, in case anyone would like a copy.