Last year I posted some Easy Craft Ideas for Wreath II for Our Little Flowers Girls' Club. At the time I also put together a list of ideas for Wreath I to share with a couple friends, though I never did get around to posting it here on my blog. I thought I would share them with you all now, in case any of you are looking for ideas.
I haven't had any time to plan for this coming year yet, and I considered just going back and doing Wreath I over again, but I think I will try and spend some time this next week planning our year with Wreath III, with the intentions of going back to Wreath I next year.
To keep things simple, all of these crafts come from Oriental Trading. If you end up placing an order, be sure to search for an Oriental Trading Coupon Code. You can usually always find a coupon that will work and save a little extra money.
1. Flower: Sunflower ~ Virtue: Faith ~ Saint: St. Catherine of Siena ~ Color: Brightest Yellow
The flower for this meeting is the Sunflower:
"Our Faith may be compared to this flower, since its gaze is ever fixed above, and turned toward the glorious sun of divine truth."
Oriental Trading has a darling Sunflower Wind Sock (found here)which would be a fun craft for this meeting.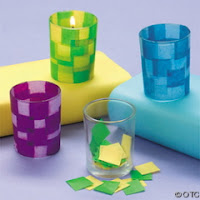 Another idea would be to make a candle or candle holder craft since:
"God is light. In Him, there is no darkness."
You could easily put together the supplies for this craft or purchase kits here: Tissue Paper and Glass Votive Holder Kit
2. Flower: The Ivy ~ Virtue: Hope ~ Saint: St. Monica ~ Color: Green
The Ivy Heart we made for our Notebook Pages during our meeting was adapted from one of the crafts suggested in the Craft Companion. Another suggestion was to decorate flower pots and I thought the girls would enjoy this little kit: Artist Flowerpots.
3. Flower: The Peony ~ Virtue: Love of God ~ Saint: St. Agnes ~ Color: Pink
The God is Love Cross Magnet would be perfect for this virtue, don't you think?! You can find it here at Oriental Trading. It looks like they have another version available now as well.
4. Flower: Rose ~ Virtue: Love of Neighbor ~ Saint: St. Jane Frances de Chantal ~ Color: Light Red
This Heart Stacking Candle Craft Kit would be a nice craft to make to give as a gift to a friend/neighbor!
5. Flower: The Carnation ~ Virtue: Obedience ~ Saint: St. Joan of Arc ~ Color: White
Since "Joan of Arc started out at a Shepherdess, until God Called her to defend his flock," here is a "Talk to the Shepherd" Lamb Craft Kit.
Another idea would be to make Coffee Filter Carnations!
6. Flower: The Forget-Me-Not ~ Virtue: Piety ~ Saint: St. Cecelia ~ Color: Bright Blue
Since I tied in the "Colors of Piety" to this meeting for my own group, a rainbow craft would work well! Here is a kit for a pretty Rainbow Sun Catcher.
7. Flower: The Violet ~ Virtue: Humility ~ Saint: St. Catherine Laboure ~ Color: Purple
The Wreath 1 Craft Companion suggests a craft based on the Footprints poem: "Footprints" is a powerful reminder of how much we depend on God. This Footprints Cross Craft Kit would work perfectly!
8. Flower: The Daffodil ~ Virtue: Industry ~ Saint: St. Frances Xavier Cabrini ~ Color: Pale Yellow
Here is a craft idea for something which can be used "industriously" in the kitchen: Wood Butterfly Recipe Card Holder