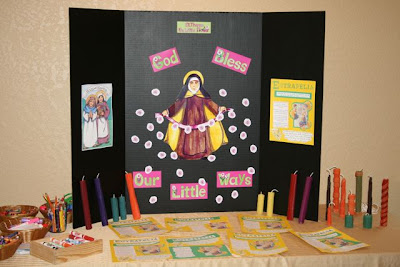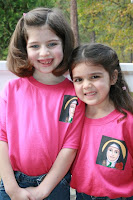 A few weeks ago we finally had our first Little Flowers Girls' Club meeting for this new year.
My girls were very excited and had really missed the meetings and seeing their Little Flower friends over the summer. All day they couldn't wait for the meeting to start!
I didn't have time to prepare over the summer this year, in fact I hadn't even had a chance to order the materials, but thankfully a friend loaned me her Wreath III Leader's Guide and (I am sure with the help of St. Therese, and Shelly's post!) everything fell into place in time for the meeting.
Here are some pictures from the afternoon:
~ Coloring Pages & Copywork ~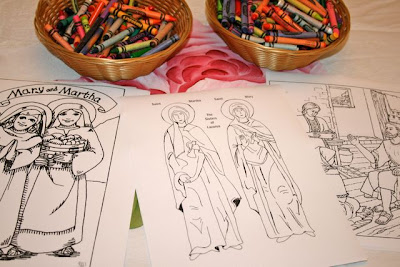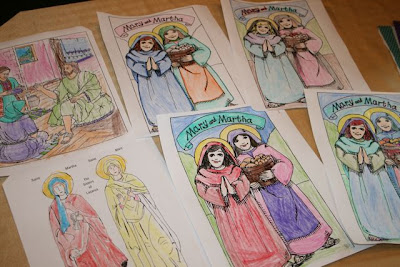 The girls had three options for coloring pages:
This year we are expanding on the virtue pages for our notebooks, and adding a bit of copywork using the Memory Verse for each month as well. I am hoping this will help the girls get a jump start on memorizing the verse each month. Here is the page I created for the younger girls (using Startwrite) for the virtue of Eutrapelia.
~ Meeting on the Virtue of Eutrapelia~
Eutrapelia = /yoo trap el EE ah/ Aristotle's word for pleasantness in conversation: wit, repartee; liveliness; urbanity.
Aristotle and St. Thomas Aquinas describe this virtue as "pleasantness," "good wit," and "pleasantness." Rachel refers to it as "modest relaxation" in the
Wreath III Leader's Guide
.
Following Shelly's lead and suggestions (thank you, THANK YOU Shelly!) here is what was discussed:
First I explained the virtue, using the above definitions.
I then introduced the flower. The common dandelion. I pointed out that to grown-ups this flower is a weed, but to children this weed is a flower. Usually the first flower children bring to Mom. And children love to blow the 'puffballs' – this brings great joy, aka EUTRAPELIA!! Eutrapelia = Seeing weeds for what they are… FLOWERS!!
At both Shelly and Rachel's suggestion, I downloaded Mother, You Are Worried from Marie Bellet's Lighten Up CD (I thought I had this CD, put apparently I just have all of her other cd's) and played it for the girls.
We then discussed ways or situations where we could be pleasant.
I told the girls about how St. Therese had hard times with some of the sisters in her order but she was always so gentle, kind and pleasant to those who were a thorn. She always offered up these little sufferings.
We finished up by reading and discussing a story about St. Martha from More Once upon a Time Saints
. (This is an excellent series
of
books
and very worth having in your home library!)
For the notebook pages, I used the memory verse for Eutrapelia, a prayer, an image of Martha and Mary, and dandelions. You can download my document here.
Here is a picture of the sample page I created:
Since candles are a good symbol for Eutrapelia, the girls each choose a sheet of beeswax and rolled their own candles! I purchased my kit from Magic Cabin, but Amazon also has a similar kit
available as well.
I mentioned wanting to make, or decorate, aprons to one of the very creative moms in my group, and she came up with the greatest idea!! Not only did she help the girls make super cute dishtowel aprons, the girls will continue to add something to their apron at each meeting this year, incorporating each of the virtues for Wreath III! Doesn't that sound fun?!? Here is what ELM came up with for each virtue:
MAKE APRON :: Eutrapelia and St. Martha, Patron of Housekeepers – Eutrapelia comes from the Greek for 'wittiness', referring to pleasantness in conversation. It is one of Aristotle's virtues, the "golden mean" between boorishness and buffoonery

IRON ON FRIENDS' NAMES TO APRON STRAP :: (Since "Friends hold us up!") Friendliness – the quality of being friendly, ie. characteristic of or befitting a friend; "friendly advice"; "a friendly neighborhood"; "the only friendly person here"; "a friendly host and hostess"

IRON ON A RECIPE CARD WITH A FAVORITE RECIPE :: Initiative – enterprise: readiness to embark on bold new ventures, first step: the first of a series of actions

FOLD UP BOTTOM OF APRON TO FORM A POCKET :: Orderliness – the quality of appreciating method and system, a condition of regular or proper arrangement

IRON ON IMAGE "NO LICKING SPOON":: Self-Control – the ability to control one's emotions, behaviour and desires

SOMETHING TO CLEAN UP WITH – A DISH CLOTH ATTACHED WITH A BUTTON/VELCRO TO CLEAN AS YOU GO :: Responsibility – refers to a person attempting to meet the expectations others have of them, a form of trustworthiness; the trait of being answerable to someone for something or being responsible for one's conduct, the state of being responsible, accountable, or answerable; A duty, obligation or liability for which someone is held accountable

IRON ON OR SEW ON A TIMER TO THE APRON :: Patience – good-natured tolerance of delay or incompetence, patience is the state of endurance under difficult circumstances, which can mean persevering in the face of delay or provocation without acting on annoyance/anger in a negative way

IRON ON PATCH OR TRANSFER IMAGE OF A CHEERY CUPCAKE OR COOKIE OR CHERRIES :: Cheerfulness – the quality of being cheerful and dispelling gloom, Noticeably happy and optimistic; Bright and pleasant

SOME KIND OF MATCHING OVEN MITT :: Fortitude – strength of mind that enables one to endure adversity with courage, determination, or sticking to what you know you should be doing, forbearance, endurance, and ability to confront fear and uncertainty, or intimidation, courage, bravery, fortitude, will, and intrepidity, is the ability to confront fear, pain, risk/danger,uncertainty, or intimidation. "Physical courage" is courage in the face of physical pain, hardship, death, or threat of death, while "moral courage" is the ability to act rightly in the face of popular opposition,shame, scandal, or discouragement.
and decorated as Common Dandelions
Served with "Dandelion Yellow" Punch
St. Therese, the Little Flower,
pray for us!