Back in March
(was it really THAT long ago?!)
we had our
Little Flowers
Meeting for the virtue of Justice. I've been meaning to try and blog about it
(as well as our meeting for the virtue of Loyalty)
ever since. . . Apparently the problem with waiting so long to blog about our meeting
(in addition to the sleep deprivation at the time from having a newborn)
is that I am having a hard time remembering all the details! Thankfully I did take a few pictures. 😉
~ Coloring Pages ~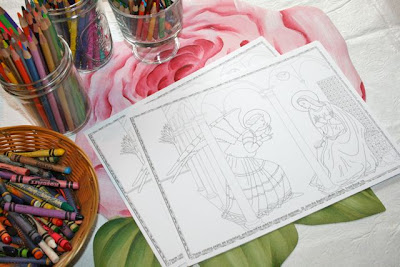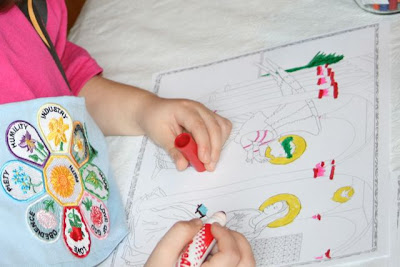 The Annunciation Coloring Page
(I choose this coloring page since our meeting ended up falling on March 25th, the feast of the Annunciation, and since the Feast of the Annunciation is a celebration of the actual Incarnation of Jesus Christ, for which Blessed Mary of the Incarnation is named.)
Other beautiful coloring pages of the Annunciation can be found here and here.
There is also a lovely illustration of Blessed Mary of the Incarnation, included in an Icon Art Project for Little Flowers, which I ran across just a little too late to incorporate into our meeting.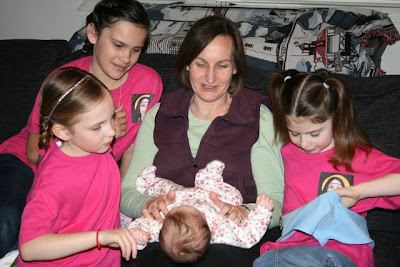 One of the other moms, my friend Kathleen, gave the talk for this virtue using a story on the virtue of Justice from Amy Welborn's
Loyola Kids Book of Heroes: Stories of Catholic Heroes and Saints Throughout History
(pages 167-169).
"When we practice the virtue of justice, we treat every person as a child of God. We remember that God created the world to be a good, happy place where everyone is treated fairly."
~ Notebook Pages ~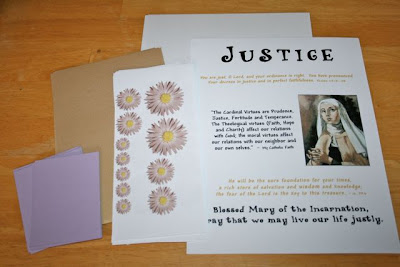 For the notebook pages I used the memory verse for Justice, a quote on the Cardinal Virtues from
My Catholic Faith
(one of my favorite books!), this beautiful
image
of Blessed Mary of the Incarnation, a quote from the Bible, and some aster flowers. You can download my document
here
.
Here is the sample page I created: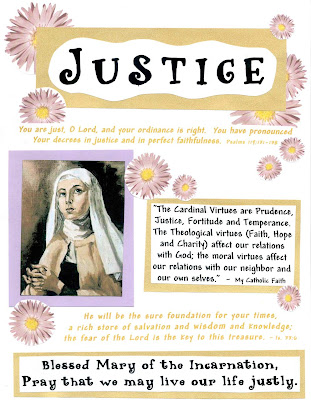 The girls did a beautiful job creating their notebook pages!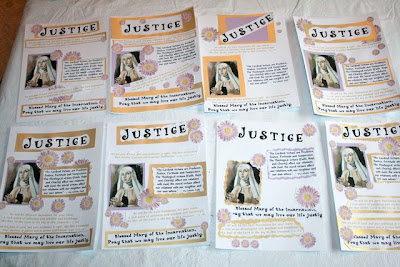 ~ Craft ~
Since the Wreath 2 Craft Companion suggested making a Shell Cross for this meeting since "God presented Himself as a sacrifice of atonement through faith in His Blood. He did this to demonstrate His justice… — Rm 3:25" I ordered a Seashell Cross Kit from Oriental Trading for this meeting.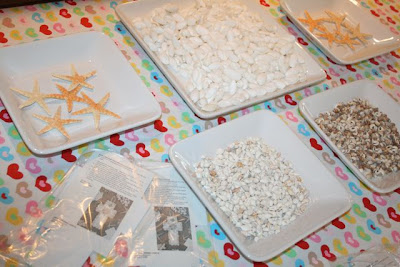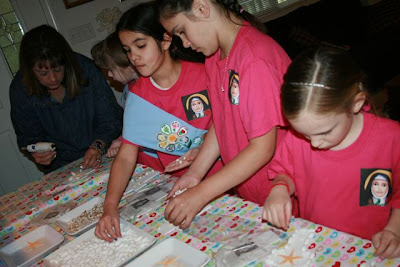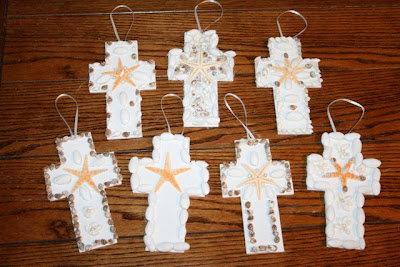 ~ Snack Time ~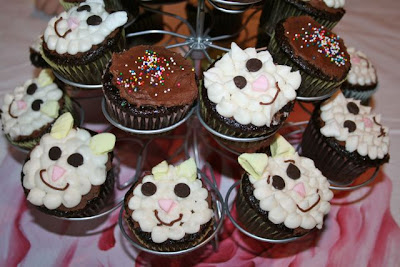 Kathleen's older daughters, who are also Little Flowers, made the snack for our meeting:
Lamb Cupcakes
!
~ Group Photo ~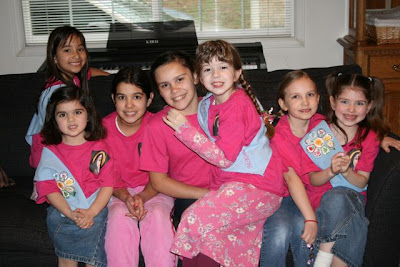 Blessed Mary of the Incarnation, pray that we may live our life justly.
Saint Therese, the Little Flower, pray for us!