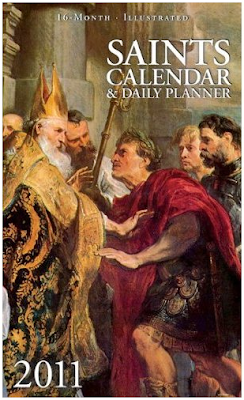 I am often asked how I keep track of the upcoming feast days, so I thought I would share with you all my favorite calendar and daily planner.
My mother-in-law has been giving Hubby & I each a copy of the Saints Calendar & Daily Planner
published by Tan for years now and we love it!
Here is the description:
A great aid to sanctify each day! Covers 16 months beginning September 2010. 71 fascinating illustrations and mini biographies – one for every week. Contains both the Ordinary (Novus Ordo) and the Extraordinary (Tridentine) liturgical year,feastdays and Sundays, and historical feasts (such as Our Lady of the Angels, St Philomena, St Dismas the Good Thief). Includes Catholic information such as the days of fast and abstinence, Ember Days and vigils. Alphabetical list of over 700 Patron Saints. With more room to write, monthly planner pages and the same easy to use 5 1/2″ x 8 1/2″ size.
My other favorite calendar is the Catholic Calendar from Saints Galore Catholic Publishing. (While you are there, check out all their other beautiful products!) However, when Hubby saw the gorgeous calendar sitting on my desk last January, he somehow convinced me to let him have it for his office… By that point, it had sold out for the year, so this year I ordered two! 🙂
Here is the description for the Catholic Calendar: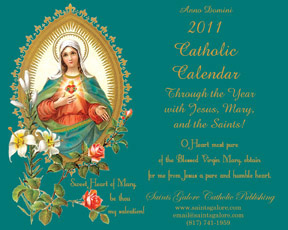 This beautiful, quality-USA-made, large 12″ X 11″ calendar is dedicated to the Immaculate Heart of Mary. It follows the liturgical year for both the Latin Tridentine (Extraordinary) and the Novus Ordo (Ordinary) forms of the Roman Rite of the Catholic Church. This calendar features traditional images, seen nowhere else, to honor each dedication of the month. It features the saint of the day, denotes the liturgical color of the day, gives reminders for novenas, includes quotes from the saints, and contains many beautiful and traditional prayers. There is also plenty of room for all your important messages. This calendar makes the perfect gift for anyone!
Not only are they beautiful and inspiring, I love that both of these calendars follow both the Extraordinary and Ordinary liturgical years.
If you have a favorite Catholic calendar, I'd love to hear about it!