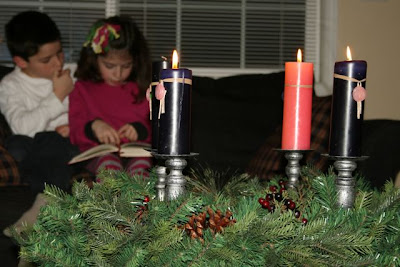 Outside my window… It's raining on and off, and looks like it is going to continue raining all week. It's not that cold (30-50 degrees all week), but my children keep hoping it will snow again!
I am listening to… Celtic Woman's Christmas Celebration
. (You can download the whole MP3 Album for only $5.00 here
.)
I am thinking… about Christmas gifts for my girls. Unlike last year, when I had everything purchased and wrapped months before Christmas, I am still working on my list this year and quickly running out of time. Last year Twinkle Toes received an adorable Forest Fairy Lodge. I just noticed that there are a number of new "furniture" pieces to go along with it including: Fairy Forest Harp, Enchantmints-Fairy Forest Lodge-Bathroom Set
, Fairy Forest Piano
and Fairy Forest Cooking Hearth
! They are all SO cute! I might have to order one of them for her. I also might order Safari LTD Fairy Fantasies Tube
.
While I was at amazon, I noticed that the girls FAVORITE dollhouse castle, the Melissa & Doug Deluxe Wooden Folding Princess Castle
, has dropped in price and is only $49.99 (50% OFF!!). I have never seen it priced this low before!! (I think I paid around $60 for ours, and it has been worth every penny! My girls play with it all the time.) We also have the furniture
to go with the castle., which is also 50% off right now?!?! 🙂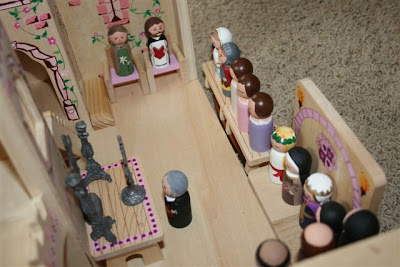 My girls mostly play with the hand-painted dolls I have made them when playing with their castle, as well as their
Calico Critters
. I just LOVE all the little animal families. We have the
Fisher Cat Family
and the
Norwood Mouse Family
. My girls love the
Kitchen Set
that they have, but I don't think I will be purchasing any more tiny pieces anytime soon.
(Perhaps when the baby is a little bit older, or my girls are better about keeping the little pieces off the floor.)
I am thinking about getting the little
Carriage
for Twinkle Toes and maybe another
family of critters
for Chiquita. Decisions, decisions…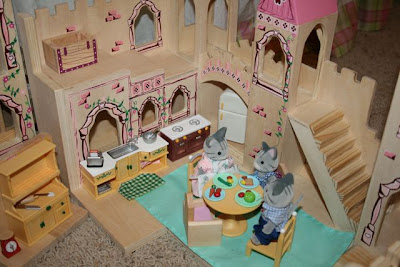 I DO have their main gift already though, and if it is all they get, they will be more than thrilled! I won't say exactly what it is, but I will tell you that their most very favorite toy this past year has been their
Mini American Girl dolls
.
I am thankful for… so very, very, very, very THANKFUL that Rose's heart is all better! I keep giving her a big squeeze and smile every chance I get and she just giggles. So cute!
I am praying… The Christmas Rose Novena. I am also praying for an online friend who miscarried her baby girl today. May our dear Lord comfort her and her family!
From the kitchen… After seeing so many pretty things above everyone's kitchen sinks this week, I am trying to decide what to add to mine! Here are a couple pictures I snapped the other night:
It's hard to believe that we've been using our new kitchen for
3 months
already! So far the only things I have near and around our sink are the permanent fixtures, inluding a soap dispenser to match our
faucet
, and the tile backsplash. I find the simplicity of it all very pretty and enjoyable… something I could
never
say about our old kitchen sink! 🙂
From the learning rooms… we are all very much looking forward to our "little" Christmas break this year, and having a hard time adjusting to schooling this month, since we usually take most of the month off. Nevertheless, we are making progress, just not as much as I would like. . .
Living the Liturgical Year at Home… I just love this time of year. There are so many wonderful traditions to incorporate into living the liturgical year at home! Yesterday we celebrated the feast of St. Lucy, and later this week we will begin praying the O Antiphons. We have always had special gifts or activities to go with each of the O Antiphons and I suppose it is time for me to decide what those are going to be this year! Here is the link to all of my old posts on Celebrating the O Antiphons.
I am creating… Christmas Creches, Chocolates, Cookies for Little Flowers, and a simple birthday Cake for Rose!
I am wearing… my slippers! It is so cold in our house right now. I really should go and try to light a fire…
I am reading… Large Family Logistics
and Real Food for Mother and Baby: The Fertility Diet, Eating for Two, and Baby's First Foods
. I am really enjoying Large Family Logistics
, though I am bummed that it wasn't on sale when I purchased my copy! lol! Anyhow, it is written by a Christian Home Educating Mother of 9 children and already I am incorporating some of her advice and noticing a difference in our daily life. I may not have 9 children, but I do find it challenging enough attempting to keep up with the six that we do have! I am looking forward to sitting down and reading the rest of it, perhaps over our Christmas break.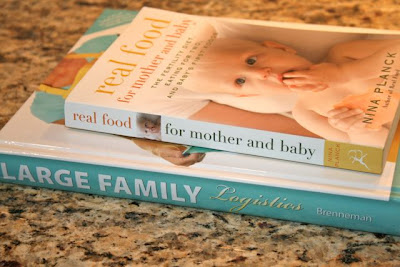 On my iTouch… Where is that thing anyways? I think I conveniently "lost" it for a few days after getting creamed by my sister-in-law one too many times playing "Words With Friends!" 😉 And what do you know, I actually have had a little more time for blogging this week! lol! OHHH!! It's not lost! As I was typing that the Angelus Bells just started going off… Ok, I am off to find it and pray the Angelus with the kids, I'll be back to finish up this post soon! 🙂
Pondering these words… from Mother Teresa.
"The family that prays together stays together, and if they stay together they will love one another as God has loved each one of them. And works of love are works of peace."
"What I can do, you cannot. What you can do, I cannot. But together we can do something beautiful for God. Yes, you must live life beautifully and not allow the spirit of the world that makes gods out of power, riches and pleasure make you to forget that you have been created for greater things – to love and to be loved."
Our little Rose… will be one years old TOMORROW!! It seems like just yesterday when Captain snapped this picture as I was headed out the door to my scheduled 5pm doctors appointment. I had a feeling that I might be in the early stages of labor and sure enough I was. Rose arrived at 11:49 that night!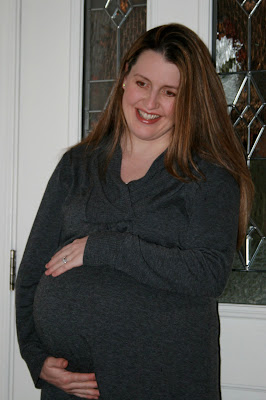 Noticing that… my baby won't be a "baby" much longer. 🙁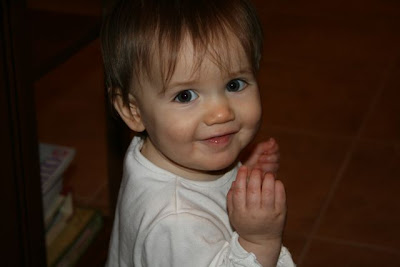 Towards personal care… Let me just say… "That time of the month" really stinks! I am not used to this! 😉
Around the house… I just bought a beautiful new 8×10 wool rug for the new family room. What a difference just having a rug has made! It has made the room quieter, cozier, and now the kids have someplace to lie down and read books or play games other than in the bedrooms. The noise (with hardwood floors and hardly any furniture everything seems o echo) was driving me crazy!!! I actually wasn't suppose to be spending charging anything else right now, but when I saw it at Costco – and that their was an extra $60 off bringing it down to just over $200 – I couldn't resist. When I got home and asked Hubby if he could carry something in from the car for me he said "Oh NO! What did you buy?!?" I just smiled and then Captain said "Uh, oh! That's what she looks like after she buys something from Costco!!" (Seriously, they didn't even know where I had gone since it was after the baby's echo. lol!) They know me well! Anyhow, everyone (including Hubby) loves the rug! Now if only the couch would arrive…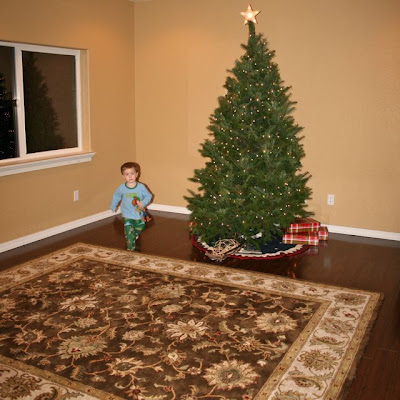 On keeping home… Setting the goal of "4 loads by 4pm" (washed AND put away) really helps one keep up with the Laundry and makes sure sure that there aren't piles of laundry everywhere when Hubby gets home! It is also nice knowing that when those loads are completed it is "done" for the day. (Thank you Kim
!)
One of my favorite things.. seeing all our children gathered around Hubby each evening as he reads the Christmas Picture Books each night before bed! This has been working out really well for our family this year, and having their Dad read the stories this year makes our collection of books seem new all over again!
A few plans for the rest of the week:
We have a fun week ahead of us including a visit from some friends, Rose's 1st Birthday, and a Little Flower's meeting! I am also hoping to find the time to finish updating my address book (I am finally inputting the addressed into the computer, so I can print labels) and start working on our Christmas Cards.
A Picture thought I am sharing: