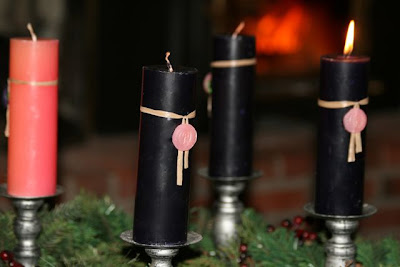 Outside my window… it is so COLD!! Such a difference from the wonderfully warm weather we were just enjoying for the past two weeks in Arizona! I am freeezzzzinngggg!!!
I am listening to… "Let it snow
" from one of my favorite Christmas cd's
!
I am thinking… that it is so nice to be able to use past crafts over and over each year. I only had Friday and Saturday to prepare for Advent, and yet our plans/traditions have all fallen into place so nicely. So, YES, it DOES get easier each year for those of you that were asking!
I am thankful for… the time we were able to spend with my Hubby's parents. It was so great for our children to have some time with them to get to know them better and we were all so sad to leave. How I wish they lived closer! We will be praying for my Father-in-law as he prepares to have his prostate removed in a couple weeks due to cancer. Could you please add this intention to your prayers?
I am praying… for Liz and her dear family and in thanksgiving for the time they were given to spend with their precious little saint, Jedidiah Joseph. The anniversaries of my own little ones births into heaven both fell on Thanksgiving this year, and it is amazing that no matter how many years go by, I still miss them dearly. We weren't able to visit the cemetery where they are buried since we were traveling, but we were able to stop by and say a few prayers for my Grandparents… It was so sad to pass through their hometown for the first time without seeing either of them.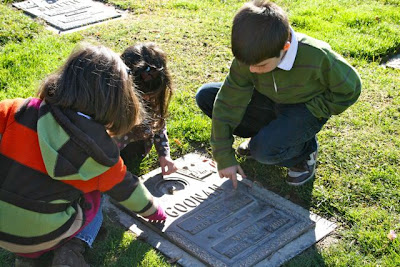 I am also praying for the souls of two my my Great-Aunts who died this month. My Great Aunt Mary died on November 11th, and my Great Aunt Marlene died this week. They both lived a long ways away, though I do have fond memories of them both from my childhood and they will be missed by so many!
Saints of God, come to their aid! Hasten to meet them, angels of the Lord! Receive theirs soul and present them to God the Most High.
From the kitchen… TURKEY!!!! Despite spending ALL day (and by all day I mean we got up at 4am and on the road by 5am and then didn't stop until 9:30pm – crossing over time zones so it was actually 17 1/2 hours driving time) on Wednesday and then a good part of Thursday traveling, I was still able to pull off a (very simple!) Thanksgiving Dinner thanks to Wal Mart and that very last frozen Turkey Breast in their freezer… It was barely enough and we were all craving more, so I picked up a 23 lb turkey on Friday and baked it after Mass yesterday… Yum!!!! Now we can have leftovers, Turkey Sandwiches and Turkey Soup all week! 🙂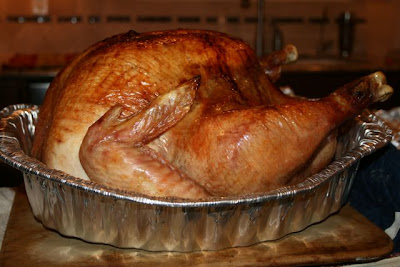 From the learning rooms… we usually take a winter break in December, but not this year. With our summer remodel which caused us to start late this year and traveling for a couple weeks this month, we need to really work on developing a good schedule or we just might be schooling all next summer! We did do a bit of schoolwork (math and english) on the road and we took our children on a number of great field trips, all of which were very educational… That counts, right?!?
Living the Liturgical Year at Home… Our Advent wreath has been set up on our coffee table and Hubby blessed it Sunday night before we lit the first candle. We have also hung the first couple ornaments on our Jesse Tree and colored coordinating coloring pages.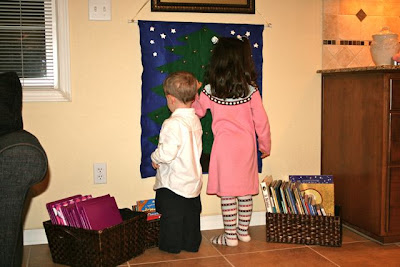 The baskets of books are a huge hit with my children and Snuggles unwrapped the first one Sunday night for Daddy to read before bedtime. Our children are all taking turns, so Chiquita opened the second book last night.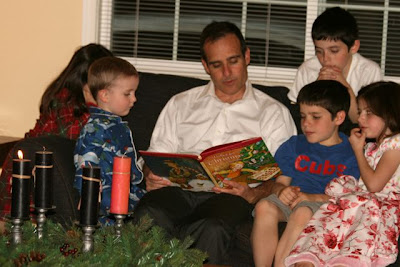 I am creating… a grocery list for this year's Jesse "Tea!" We weren't able to have it on the first Sunday of Advent, but this coming weekend should work out perfectly!
I am wearing… my wedding ring! I had dropped it off for a repair at the beginning of November before I knew we were leaving town and it wasn't ready to pick up until a couple days after we were gone. It is so nice to finally have it back on my finger! ♥
I am reading… Meet Josefina
to my girls and they LOVE it! I just ordered the whole set of books
for Chiquita to go along with her Christmas present and she is going to be SO excited!
On my iTouch… wi-fi now that we are home again. Oh how I was wishing I had an iPhone while we were traveling! I had very limited access to all things online other than the occasional special trips to Starbucks or McDonalds. 🙂
Pondering these words… from Seek That Which Is Above: Meditations Through the Year
.


"Advent is concerned with that very connection between memory and hope which is so necessary to man. Advent's intention is to awaken the most profound and basic emotional memory within us, namely, the memory of the God who became a child. This is a healing memory; it brings hope. The purpose of the Church's year is continually to rehearse her great history of memories, to awaken the heart's memory so that it can discern the star of hope.…
It is the beautiful task of Advent to awaken in all of us memories of goodness and thus to open doors of hope."

Our little Rose… did amazingly well on our road trip, thanks to lots of snacks, Almond Milk, and Signing Time
on my iTouch!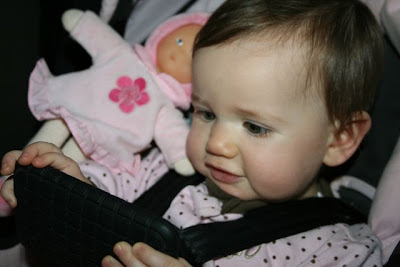 Noticing that… I never did post this video I uploaded last month.
Towards personal care… I really need to figure out a way to fit exercise into my schedule. My ankle is still healing which makes walking difficult. Plus, all the fast and convenient food (Fat Food as my mil calls it!) during our trip did not help my waistline at all. I always seem to have a hard time losing the extra "baby weight" until after my cycles return and the baby is finished nursing – neither of which has happened yet. Though I am not in a hurry for either of those, I would like to start getting back into shape… I am sure I would feel better and have more energy!
Around the house… Advent decorations! Today I am hoping to pull out our children's nativity sets… Now where did we put that box?
On keeping home… I miss our brick fireplace and mantel! I can't find anywhere to put "PREPARE" like we did last year. Thankfully the cabinet maker called while we are gone. He has the new mantel finished and will be coming out to install it on Wednesday. It may be awhile before we can have the stonework done, but it's a start!!
One of my favorite things.. seeing how much our little Rose loves her Da-Da!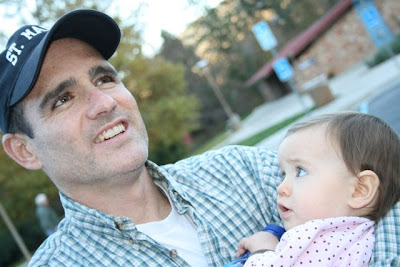 A few plans for the rest of the week:
Begin praying the St. Andrew Novena today
Fireplace Mantle installed on Thursday
First Friday Mass
Doctor's Appointment for Rose Friday afternoon
Girls Night out with Aunt Bridget, Twinkle Toes and Chiquita
A Picture thought I am sharing: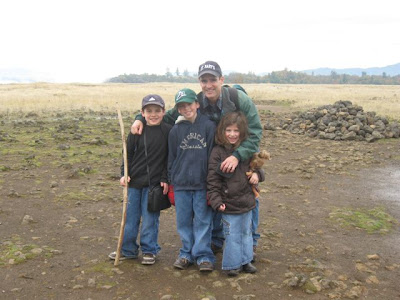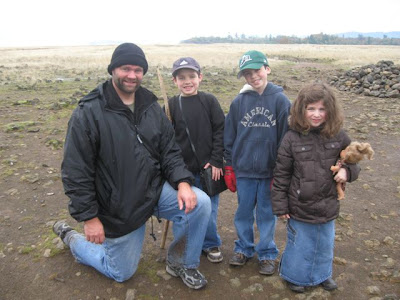 While downloading photos from the camera I ran across these two pictures that Hubby took a few weeks ago when he and our three oldest took Father L. hiking to the top of a nearby plateau. 🙂 It was Twinkle Toes first hike with Daddy and her older brothers, and she did wonderfully!