Outside my window… I can see the Christmas lights on our cedar tree! I hadn't really noticed how much it had grown until we came home from Mass on Christmas Eve to find it covered in lights! My brother Paul loves surprising us with something at Christmas time and we LOVE the surprise! (He had arrived at our home a bit early, and we weren't home yet. He actually "hung"- or should I say "threw"- the lights onto the tree without any tools! lol!)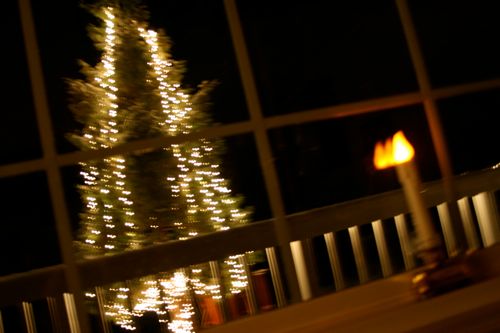 I am listening… to the CD one of my little sisters made me for Christmas. I love that she likes country music now! Actually, I should clarify that… "Texas Country!"
I am watching… Emma
!!! We watched this movie back when BBC had it available online for a little while and have been wanting to add it to our collection ever since. Thank you Hubby!
I am thinking… about our new living room, and how to position the couch. We were all so very excited when it arrived the day before Christmas Eve, just in time for Christmas! (It wasn't scheduled to arrive until after the 1st of the year, though we were hoping that it would arrive early.) Right now we have it in the corner of the room, which worked perfectly for Christmas, but we are undecided if that is where it will remain.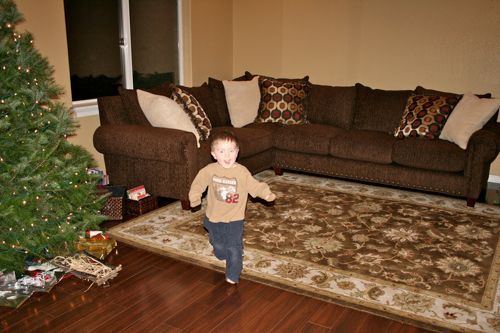 I am thankful for… being able to spend Christmas with most of my siblings this year. It was so much fun having them over on Christmas Eve! My sister Mary (front right of the picture below) came back after we left for Midnight Mass to fill the stockings, put all the presents under the tree, and then she even cleaned my kitchen so I could "relax" when we got home. She St. Nick even left a note in my stocking for "one clean Christmas Eve kitchen!" Wasn't that sweet?!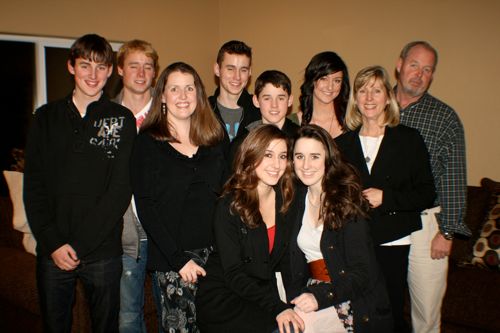 My brother Brian hadn't arrived yet when this picture was taken… It is also missing the three siblings born just after me: Jennifer, Sean and Jamie. Hopefully one of these years we will all get to be together at the same time again! It has been a
long time
!
I am hoping and praying… that I will be able to go and visit my little sister JoAnn at college this next semester! And, no, I am not only using her as an excuse to finally "meet" a few other dear friends! 😉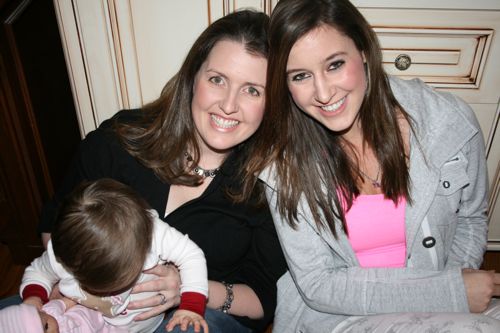 From the kitchen… I just picked up all the ingredients (including some Peppermint Schnapps) to make a Lethal Peppermint Chocolate Cake for New Year's Eve. I couldn't wait any longer to try a recipe from the new cook book
we received for Christmas! It will be the perfect opportunity to try out my adorable new measuring cups
as well! Thank you Charlotte and family!
We have also been doing lots of Christmas baking, spread out over this week of Christmas, since very little was done before Christmas! Yesterday we baked sugar cookies to decorate for New Years. I am just amazed at how much easier it is to bake in our new kitchen.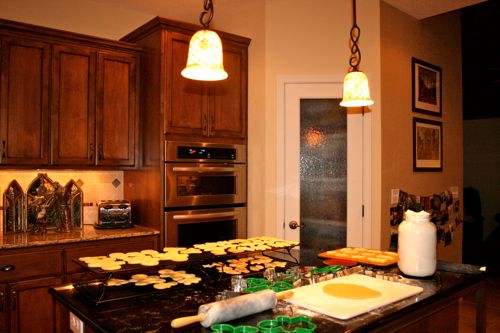 For those of you that are under the impression that all my children eat is sweets, I just wanted to let you know that pretty much the only desserts they have are those that I blog about. I do actually make real meals too! Some of our favorites this week were the Easy Scalloped Potatoes I made on Christmas Eve, my friend Jacinta's recipe for Mexican Meatball Soup, and Stuffed Red Bell Peppers!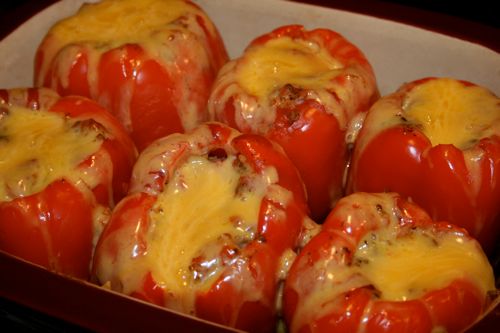 From the learning rooms… books, books, and more books! I decided to tackle my school room today, in hopes of getting a bit more organized for the new year, and have been moving most of my book shelves around. I have hopes that it will be great in the end, but right now I just have an even bigger mess on my hands! 🙂
Living the Liturgical Year at Home… We have been joyfully celebrating Christmas and preparing for the upcoming feasts of Mary the Mother of God and Epiphany! Our plans for Epiphany are pretty much the same as last year and the year before, though my children have saved the gifts they purchased for each other (they all drew names this year) to open on Epiphany.
I am creating… plans for our next Little Flowers meeting and (eventually) a post about our last meeting, just as soon as I finish organizing the school room.
I am The boys have been wearing… the fun and Stylish Mustaches
that they received from my Mom and Dad for Christmas!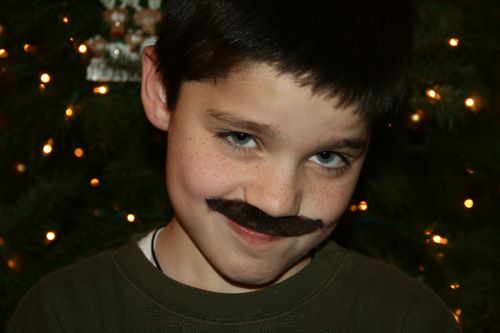 Even my brother had fun trying one of the mustaches on my poor little niece. Rose would have none of it, when they tried to get one on her!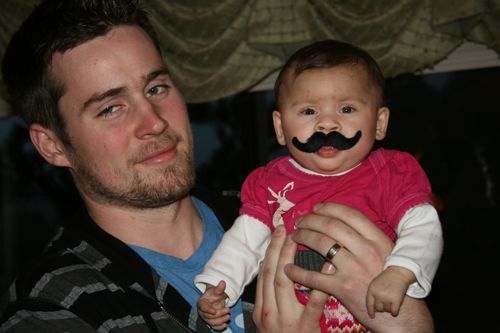 I am reading… Large Family Logistics
and Smart Martha's Catholic Guide for Busy Moms
. I've also added I Believe in Love: A Personal Retreat Based on the Teaching of St. Therese of Lisieux
(a Christmas gift from Hubby) and Olivia's Gift
(to review) to my nightstand to start reading soon!
We have also been reading the Christmas Books the children found in the empty Advent Book Basket on Christmas Morning.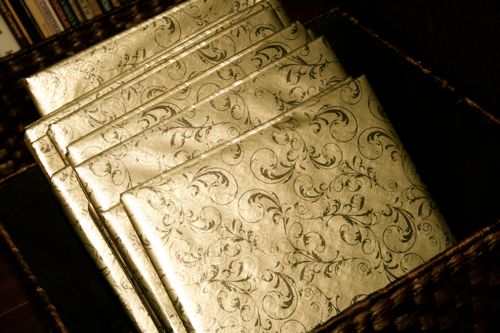 On my iTouch… Christmas Music (Noel
, A Christmas Celebration
, Catholic Christmas Classics (Volume 8)
, O Night Divine
and Let It Snow
) since we used up all of our alloted time on Padora this month.
Pondering these words… from today's passage in Small Steps for Catholic Moms
:
"Who except God can give you peace?
Has the world ever been able to satisfy the heart?"
St. Gerard Majella
Remind me, Lord, of all the times I've looked to the world to satisfy the longing in my heart. Teach me again the lessons of those disappointments. As I make resolutions, grant me the strength of will to turn away from the incessant call of the world and rest in you alone.
Our little Rose… has been walking around the house with her new baby doll
saying "Mama… Mama…" all the time. It is so adorable!
Noticing that… Snuggles doesn't like to look at the camera for family photos. The picture below is proof that he can smile for the camera when he chooses not to be stubborn shy. If only I could paste that smile into our family picture this Christmas. . .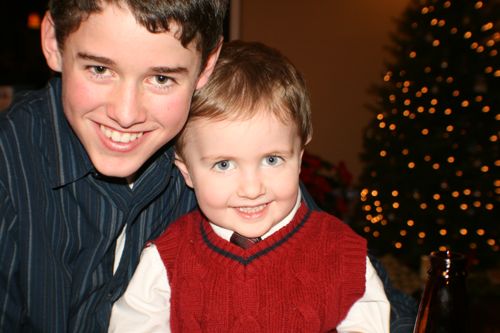 Towards personal care… Don't you just love receiving the sacrament of Confession!?! Our family was able to go a couple days before Christmas. After that, even though my shopping wasn't quite finished, I finally felt "ready" for Christmas!
"Go to your confessor; open your heart to him; display to him all the recesses of your soul; take the advice that he will give you with the utmost humility and simplicity. For God, Who has an infinite love for obedience, frequently renders profitable the counsels we take from others, but especially from those who are the guides of our souls." ~ St. Francis de Sales
Around the house…
lots of Christmas Cards and Decorations! One of my favorite additions to our Christmas decorations this year was the
new manger and Baby Jesus
for under our Christmas tree. All during Advent our children filled the manger with "hay" to make a soft bed for Baby Jesus, who arrived on Christmas Day! It reminds me so very much of my own childhood and the Baby Jesus my Grandma would let me place in her manger on Christmas Eve.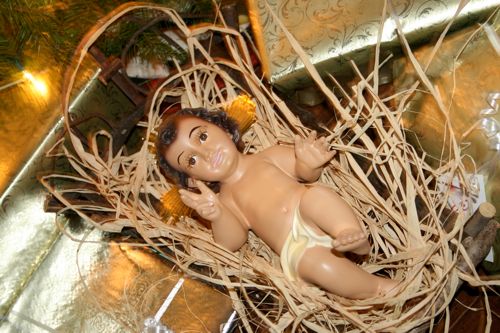 On keeping home… I am starting to think that perhaps I buy way too many books. I'm not saying that it is a bad thing, just that it is getting harder and harder to find places to put them all! 😉
One of my favorite things… Christmas!
A few plans for the rest of the week:
Pick up curtain rods and hang curtains. (I was hoping to get two more for above the windows in my bedroom to match the one above the sliding glass door, but when I went in a couple days ago I found out that it had just been discontinued… The good news is that they were able to find two at another store for me and they are now 75% off!)
Finish organizing and cleaning the school room.
Decorate cookies and bake a cake for New Year's Eve.
Attend Mass on New Year's Day.
A Picture thought I am sharing: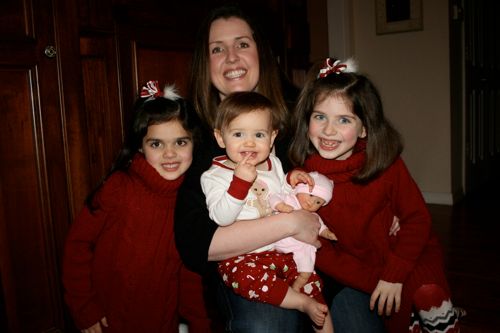 Me and my girls on Christmas Day!