Outside my window… it is raining today, and looks like it will be raining the rest of the week… Thankfully the sun came out for a but this past weekend and we were able to get out of the house a little bit. Here is a picture taken just outside our window Sunday evening: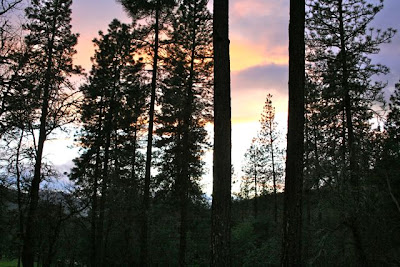 I am hearing… my children singing Caledonia. According to my children, it is one of my Dad's new favorites. My Dad's birthday is coming up on the 18th, so I think I might just order him Celtic Thunder's newest CD
which is going to be released on the 9th. Perfect timing!
I am thinking… about the plans for our remodel/addition, still, and probably will be for awhile! I made a number of changes to the last rough draft and here is where we are at now: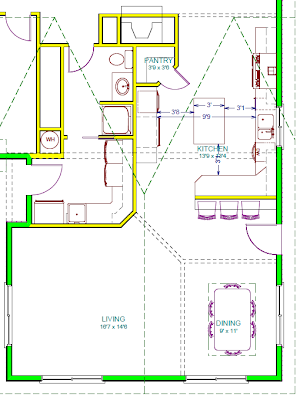 Basically our plans are to make the kitchen both wider and longer, remodel the laundry room/bathroom, and add on a Living Room and Dining Room. (Right now our big table takes up most of our kitchen and we outgrew it quite some time ago.)
Overall I think this is probably the best layout we will be able to come up with, with the limited area we have to work with. (We have many restrictions from the county on which way we can add on, as well as a big hill behind us which we'd rather not excavate any further.)
I am still trying to decide just what appliances I'd like in the kitchen… Since we moved here 10 years ago, we've just had 3 working burners and an ancient oven. A dishwasher is at the top of my list followed by a duel-fuel range/oven (with an additional wall and convection oven), which means we will need to put in a small propane tank and run gas to the kitchen, but I think it will be worth it! Just to be able to move our table out of the kitchen will be wonderful!
I am thankful… that our little Rose is doing so well! Her echocardiogram has been rescheduled to the end of March so we can be seen locally and not need to travel so far away.
I am praying… for the Pope's intentions for February, and especially for a particular family member who has lost his faith which has been heartbreaking to witness:
"For all scholars and intellectuals, that by means of sincere search for the truth they may arrive at an understanding of the one true God."
From the kitchen… We will definitely be making some Edible Candles this afternoon, and, if I can pull it together, we may just have a Candlemas Tea. Looking through Alice's suggestions, I could probably come up with everything except for the Mallomars. Does any one have any other ideas to symbolize Anna the Prophetess?
From the learning rooms… We finished "P" week and I will try and Post Pictures soon! This week we are focusing on the basics and celebrating a few feast days. We will move on to "Q" next week.
Living the Liturgical Year at Home… Yesterday we celebrated the feast of St. Brigid, today we'll celebrate Candlemas, and tomorrow the feast of St. Blase. I had hoped to make it to Mass this morning, and again tomorrow, but Rose was up most of the night, and it just wasn't possible this morning. A friend called and said she had a Candle blessed for me though. Wasn't that thoughtful?! Hopefully we can make it tomorrow morning so we can all get our throats blessed. We'll see!
I am creating… a post for "P" week. I really need to start working on these posts as we work our way through the week. They take so long to put together!
I am wearing… a nursing cover. I've always just used blankets in the past, but this time I purchased a black and white one
( the "Yoko" pattern) and was given one with a beautiful rose pattern which was made by a friend. I love them both!
I am going… to try and take a nap today. Last night was HARD! Rose slept most of yesterday afternoon, which did allow me to catch up on a bit of housework and a few other things, but she made up for it last night.
I am reading… P Is For Palmetto: A South Carolina Alphabet
with the boys, since they have finished studying Maryland and are moving on to South Carolina.
Pondering these words… of St. Augustine, quoted by Fulton Sheen in a talk
of his which we were listening to on the way home from Mass on Sunday:
"Our hearts are made for Thee O Lord,
and they are restless until they rest in Thee."

I am hoping… that my sweet little Rose's tear duct gets better soon. It has been blocked since she was just a couple weeks old.
Noticing that… even though the boys are doing well with Right Start Math, it is so hard for me to find the time each day to work with all the children individually. Is it awful that I am considering yet another switch in Math Programs for next year? I would like to continue using Right Start with my younger children, but I am looking into switching Captain to Teaching Textbooks…
Around the house… the computer is in the living room right now since we've been watching some movies online. This evening we are planning on watching the next episode of Emma
!
One of my favorite things… looking through old family photos. Our children are growing way too fast!
A few plans for the rest of the week:
Hockey Lessons for the Boys on Saturday (I think we'll all go this week!)
Celebrate Rascal's 8th Birthday on Sunday
Here are a few snapshots of Rose from the past week or so:
With Daddy!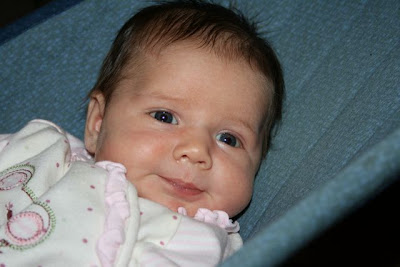 The very beginnings of a smile…
I haven't been able to catch her big beautiful smile on camera yet.
~ January 30th ~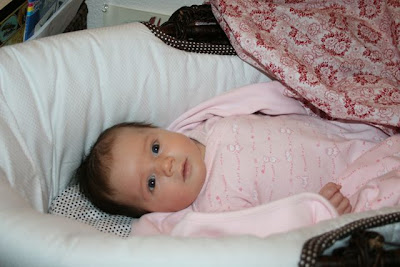 See the beautiful rose nursing cover in the background? 🙂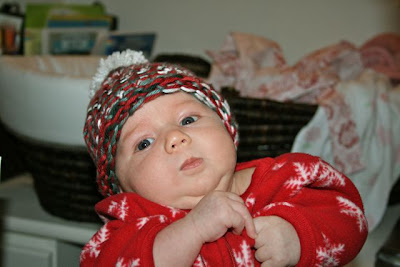 ~ February 1st ~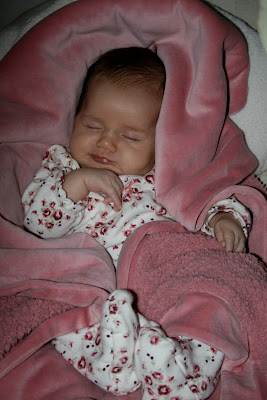 Dreaming about her plans to keep Momma up all night!
😉