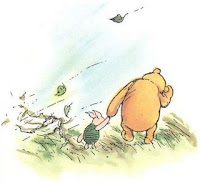 Outside my window… It's a rather blustery day!! Right now we have sustained winds of 25-35 mph with gusts of 45-50 mph. Monday was the first day of these really strong winds and unfortunately it knocked over, and broke, one of our outdoor statues of Mary on Monday… My children were the first to notice and were so sad!
I am hearing… the children watching Liberty's Kids
and the baby hiccuping.
I am thinking… about the rough draft of the floor plan for our addition. We did end up hiring an engineer/architect to draw plans for us and it is proving to be quite challenging to fit what I would like into the space that we have. The laundry room has been particularly difficult since, in order to make my kitchen a little wider, it will become smaller. Decisions, decisions… and I am too sleep deprived to think clearly right now!
I am thankful for… my mom. She watched our children while the baby and I went to town for my postpartum check up and groceries yesterday (Tuesday). With the extra driving (my parents live even farther from town than we do, and in the opposite direction) I ended up being gone from 8:45 am until 6 pm, and I only managed to make it to the Doctors and Costco (with a quick dash through the drive thru at Starbucks), but thankfully my mom also had me send along their school work which they were able to complete before I got back from town.
I am praying… for the son of one of my mom's dear friends. His name is Tony and he is not much older than myself. I don't know him that well, though he did install the blinds in our home a few years back. He was admitted to Intensive Care just after Christmas and needs a miracle.
Update: Tony did pass away yesterday, January 20th. Please say a prayer for the repose of his soul, as well as for his dear mother Helen.
From the kitchen… I have been feeding my family, but not remembering to eat breakfast (and sometimes lunch) myself. Not good. Coffee or Hot Cocoa and snacking on leftover Christmas treats and birthday cake does not make for a Happy momma by the afternoon. I am now trying to cut back on sugar and make sure I eat some protein in the morning.
From the learning rooms… Everything seems to be taking so much longer than it did last year… Probably because it IS taking longer. We are plugging away though, getting what we can done and saving the rest for the next day.
Last week the girls had a so much fun working on "O" Week, but with the holiday on Monday, and day in town on Tuesday, we are spending this week continuing "O" and will move onto "P" next week. I will post some pictures from "O" week soon.
Living the Liturgical Year at Home… January 21st is the feast of Our Lady of Altagracia. We will be making homemade Orange Smoothies and reading A Gift of Gracias: The Legend of Altagracia
.
I am creating… a revised floor plan so we can meet with the engineer again soon.
I am wearing… my baby! I finally purchased a Moby Wrap
and it is perfect.
I am going… to be writing a few more thank you notes. I am just amazed by all the kindness and generosity of our friends both in real life and online.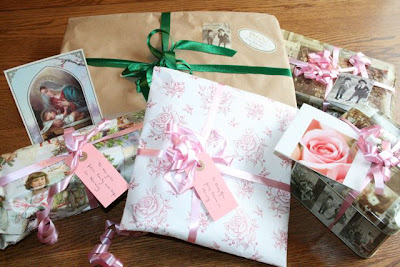 Christmas gifts from dear friends in Norway which arrived on my birthday!
These lovely packages filled with darling toys and yummy treats followed a package containing Lucia Crowns & Star Boys Hats for next years Santa Lucia celebration! My children have been so excited! Thank you Emma and family!
I am reading… The Family Manager Takes Charge: Getting on the Fast Track to a Happy, Organized Home
. I am in desperate need of some inspiration and motivation. I am also re-reading parts of Real Learning: Education in the Heart of the Home
for the same reason.
I am hoping… that I can find ways to go to town as seldom as possible in the upcoming weeks. It is just too overwhelming right now.
Noticing that… my oven is actually my age. It too was "born" in 1978. I can't believe it still works, though it has been re-wired a couple times by my dad. Now I really feel old!
Around the house… it feels so cluttered. Again. I am looking forward to Lent and doing another 40 Bags of Stuff Challenge. You know, I may not even wait until Lent to start… Especially with how long everything seems to take now, if I start now I might just be able to finish by Easter!
One of my favorite things.. watching movies at night with my Hubby. For our latest "date night" we watched the premier of 24:Season 8 online since we don't have TV reception. We're looking forward to watching the next episode next week!
A few plans for the rest of the week:
The boys begin Hockey on Saturday and are VERY excited! They got to try it out at the end of the last session and had so much fun.
A Picture thought I am sharing: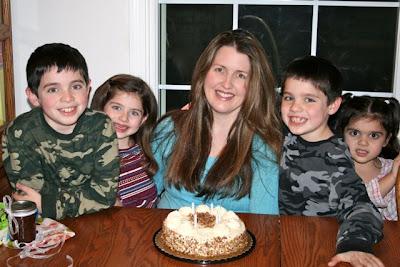 I woke up Saturday morning to lit candles on my birthday cake and birthday cards from my children. My Hubby insists that Happy Birthday must be sung and the candles blown out BEFORE opening any presents and he didn't want to wait until after dinner AT ALL before giving me my gift. He knew I would enjoy playing with it all day, and he was right! I did insist on saving the cake till after dinner though!
*I wrote this post yesterday afternoon, though never had a chance to upload pictures and post until this morning.