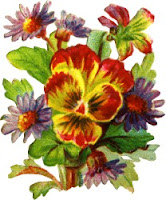 Outside my window… lots of leaves and pine needles from the windstorms of last week.
I am hearing…
A Flower Fairy Alphabet
and my children singing along as they color
pictures
of the Pansy Fairy. It's such a fun CD!
I am thankful for…
the support being shown by this wonderful online community. Thank you to all of you that have donated to help
Marci
and are praying for her family.
May God reward you for your kindness and generosity!
I am praying…
the Angelus every day at noon thanks to the bell chimes on my
iTouch
.
From the kitchen… I'm doing much better about making sure I am eating well, getting plenty of protien and not overdoing it on sugar. Did you know that the Costco muffins have over 600 calories in each one? Yikes! No wonder I was gaining instead of losing weight!
From the learning rooms… The boys are plugging away at their various subjects. The girls just began "P" week. We've read about Michael and the Pansy Fairy, and will be learning more about St. Patrick, Penguins, Peacocks, and making Petal People
! The girls will also be making a treat, or two, from the Pink Princess Cookbook
. The Pink Princess Pudding sounds Perfect for P week! (Thank you Charlotte for Pointing out this fun looking cookbook and Amazon for your free trial on Prime shipping!)
Living the Liturgical Year at Home…
Since today is the feast of the conversion of St. Paul, we'll be coloring Charlotte's lovely
coloring page
and read at least part of
Adventures of Saint Paul
. This coming Sunday we will celebrate the feast of St. John Bosco with
Skillet Lasagna
and a family
movie
night, as
usual
.
I am creating…
a little set of painted wooden Carmelite nuns for the girls. Painting St. Odelia and Our Lady of Altagracia during
O Week
has me excited about painting a few more saints.
I am wearing…
a Bamboo
Belly Bandit
and it really seems to be helping, especially my lower back and posture.
I am going…
to watch
the first episode
of
Emma
online
this week. I'm so excited!
I am reading…
or rather, am planning on reading
these posts
, via my iTouch, the next time I sit down to nurse Rose. Sounds like just what I need right about now!
Pondering these words…
from St. Francis de Sales:
"Never be in a hurry; do everything quietly and in a calm spirit.
Do not lose your inner peace for anything whatsoever,
even if your whole world seems upset."
I am hoping… that I will have the energy and motivation to go to our annual "Mom's Night Out" at my friend Stasia's Friday night. It sounds like so much fun, and it would be so nice to see everyone, but driving anywhere (let alone 45 minutes each way) with Rose right now completely overwhelms me. We'll see…
Noticing that…
there is a HUGE difference between 5 and 6 children. I think I have finally reached the point of not being able to take all my children grocery shopping with me. Actually, just taking Rose is more than I can handle right now!
I am very thankful for my Hubby who has been doing some of the shopping, the groceries available on Amazon, and Alice.com. (Thank you to the person that left the tip on Alice.com on my last Daybook post!) I just ordered Pledge, Paper Plates and Paper Towels, as well as a few other things and my total was only about $12 AND they ALWAYS offer Free Shipping. I have a feeling it is going to come in very handy in the upcoming weeks.
(
Here's a link for $10 off, after you've spent $50, if you are interested in signing up! It's free!)
Around the house… a couple bags of these are hiding in the kitchen cupboard. Ssshhh!!
One of my favorite things… My Catholic Faith
. This book, which was originally printed in 1954, has had a permanent spot on the end table in our living room and is one of my very favorite books of all time.
A few plans for the rest of the week:
Try to go to the Post Office and Library at some point, or ask Hubby! 😉
Hockey Lessons on Saturday for the boys. They started last Saturday and had so much fun!
A Picture thought I am sharing: