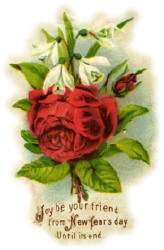 Outside my window… the boys are playing hockey on the back patio with their Dad and their new hockey sticks
! It is nice to have the sun out for a change, even if it is cold.
I am hearing… the hockey puck bouncing off the walls of the house. Nice!

I am thankful for… the little postcard that arrived in the mail, from a Chiropractor I saw a couple years ago, offering a free "Birthday Adjustment!" YAY!!! What perfect timing! I have an appointment scheduled for Tuesday afternoon.
I am praying… that Rose's little heart really is all better and that an appointment with the echo-cardiologist opens up locally on January 19th so that we don't have to drive so very far on February 2nd.
From the kitchen… 1/2 caff coffee and almond biscotti… I really need to eat something substantial and healthy.
From the learning rooms… I thought about starting back to school today, but when I woke up this morning (Monday), at 10am after a very sleepless night, I came to the realization that I am just not ready yet. Maybe next week.
Living the Liturgical Year at Home… we will celebrate the 12th day of Christmas, the traditional feast of the Epiphany and also known as "Little Christmas" on the 6th. I'm sure I will need to keep it much simpler than last year, but I do have a neat new Pampered Chef pan I'd love to try out and this would be the perfect opportunity!
I am creating… a Netflix Queue since we recently signed back up for their 1 DVD at a time plan. Do any of you have any great movies to suggest? I am also very curious about the Roku SD Player
. Do any of you have it, and if so, is it worth it?
I am wearing… ugh! NOTHING fits! Maternity clothes are NO WHERE NEAR as cute without that nice firm round baby tummy to fill them out, and I am a LONG WAY from fitting back into my regular clothing once again… I have my work cut out for me, that's for sure!
I am going… to need to be the tooth fairy again tonight (Monday night)! Twinkle Toes just lost that other top tooth!! I have a little klutz book
that I ordered awhile back so we can make "Petal People" during P Week (which is coming up in a couple weeks) which should slide nicely under her pillow.
I am reading… very few blog posts lately, and wondering how I ever found the time?!? I sure miss it though, but it overwhelms me when I log into Google Reader to find 500+ unread posts each time. I'm thinking I need to cut back. Which makes me curious… How many blogs do you follow and how much time to you spend reading each day? I know I'm going to have to (drastically) cut back, if I hope to (attempt to) keep up with school with a new baby.
Pondering these words… from the beautiful Novena for Homeschooling Mothers which Angela has been posting:
"Most gracious God, You have charged me with the sobering task of educating these children with which You have blessed our family. In Baptism, You have made them Your own, and now You have entrusted them to me, that I may rear them in supernatural love toward You and educate and train them in all of the knowledge required to form them into the Godly adults that you created them to become. This task so far exceeds the abilities of Your humble servant but in confidence I turn to You, O God, trusting in your almighty power and the inexhaustible graces that you make available to me. Help me to form these children to each one's greatest potential in both intellect and virtue. Give me a greater portion of each of the fruits and gifts of Your Holy Spirit that I may perfectly execute my duties as their teacher. Grant that these children may ever look upon their divine sonship as the highest good that they possess on earth and may they at last die in full possession of it. Amen."
I am hoping… that I have a chance to sort through, and post, some of our Christmas Day pictures soon. My sister has been asking to see them for awhile… Here's one JoAnn: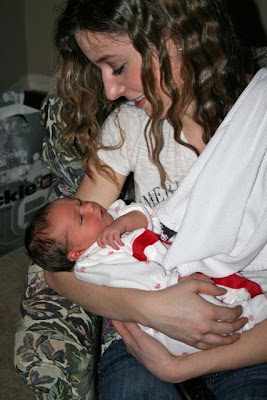 Aunt JoAnn and her newest niece on Christmas Day
Noticing that… I have a zillion emails to answer. I am so sorry to all of you that are waiting to hear from me… With Hubby home these past few weeks, and the kids watching some movies on Netflix, I've had to share the computer. Plus, I haven't been "multi-tasking" while nursing this time around, so most all my old "computer time" is now spent nursing. I'll start working on catching up once I have all the Christmas Cards out! 😉
Around the house… it still looks like Christmas and I love it!
One of my favorite things… my family!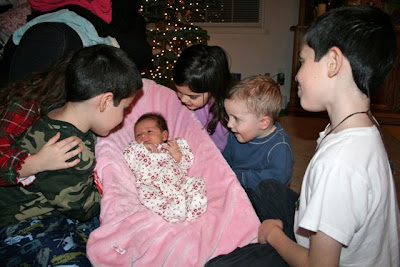 A few plans for the rest of the week:
Meet with an architect about drawing plans for a dining room & living room addition/kitchen remodel! Yay!!!
Have my back adjusted at the Chiropractor.
Celebrate Epiphany
Finish mailing Christmas and Thank you Cards
Enjoy these last few days of having Hubby off work
Snuggle with the baby and try to sleep when she sleeps — which hasn't been happening very often!
A Picture thought I am sharing: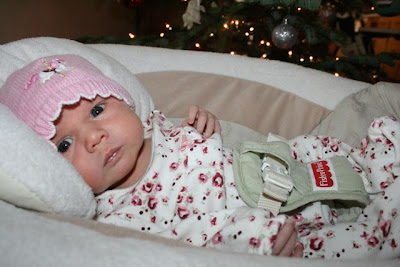 First time in the Cradle Swing ~ January 4, 2010
* I did start this Daybook yesterday, but it took me until today to "finish!" 🙂