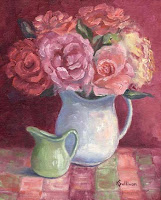 Outside my window… the sun is starting to set behind the mountain after another busy day.
I am listening to… the hum of the air conditioner. It's quite around here right now since the baby is sleeping, Twinkle Toes is reading, and our other 4 children are all at the Rink with their Daddy! I might actually have a few free minutes to complete this post – I've started it a few times this week and never got very far!
I am thinking… about colors! We finally have chosen cabinet, tile and granite colors, now we just need to make some decisions on the stone, paint, and wood floor colors. Oh, and not to mention light fixtures. . . This has been HARD!
I am thankful… that we have Captain's (and possibly Rascal's!) 3rd Grade testing behind us! I knew that Captain would need a little extra guidance so I scheduled a private testing session for him, but when we were on our way I started noticing he was MUCH more nervous than I thought he was. When we arrived I told the tester that I was wishing I would have signed both my boys up to be tested together. She said it wasn't too late, and that if I wanted Rascal tested she could test him as well, it would just need to be done at the 3rd Grade level as well. (Rascal technically just finished 2nd Grade.) I wasn't sure he was ready for that, but on the positive side, if he did well, I wouldn't need to have him tested next year! PLUS, I then had to pay less per boy for the actual testing fees. Captain was immediately much more relaxed and had a big smile on his face, while Rascal was looking at me wondering "WHAT JUST HAPPENED!" lol! He was a good sport though and the boys actually enjoyed the testing. We celebrated with a couple
surprises
, a trip to the park, and then ice cream at Dairy Queen!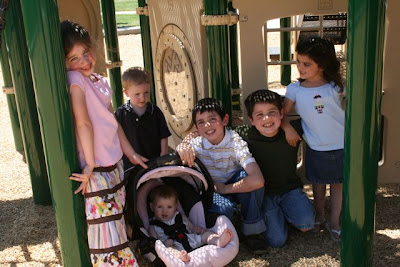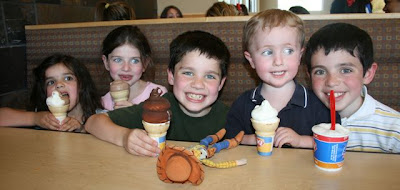 I am hoping and praying… that the boys scored well on the testing. We will find out in a couple weeks. At least it will give me a better idea of what we need to focus on next year.
From the kitchen… we are still loving our grill
! If anyone has a favorite recipe (that requires very few dishes to prepare!) I'd love a few suggestions!!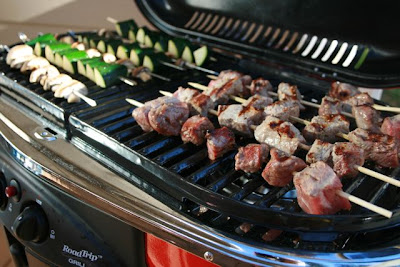 From the learning rooms… stacks and stacks of books! I had to take everything off the storage shelf so the Heating and Air guy can run some duct work along the back wall later this week. My house is quickly falling apart!
Living the Liturgical Year at Home… it has been so busy around here that our little extra celebrations have been cut way back. However, tomorrow is the feast of Our Lady of Mount Carmel (one of our favorites, as well as the patron of our Home School) so we are determined to have a little celebration after morning Mass & Benediction! You can find lots of suggestions over at Catholic Cuisine!
I am creating… Summer Bingo sheets for next week! So far this has been our favorite summer program yet and it is working just wonderfully for our family. It *really* helps to keep in mind the schedule for each upcoming week! Some of this weeks "assignments" included "Illustrate a Picture of Blessed Kateri on her Feast Day" and "Read a picture
book
about Blessed Kateri to your siblings." I guess that is one way to make sure the children are "Living the Liturgical Year at Home" when mom is too busy to keep up with it all! 😉
I am reading… The Well-Ordered Home: Organizing Techniques for Inviting Serenity into Your Life
. I've been wanting to read it for a long time and need all the help I can get right now. I was so excited when it arrived in my mailbox last week! Thank you Magdalena!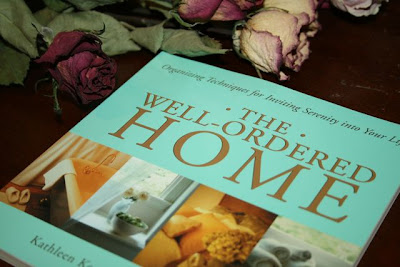 Our little Rose… wasn't sure what to think of her first time in a little swimming pool, but she is already standing up (when leaning against something) and LOVES her little RaZ-berry Teether.
Noticing that… Snuggles has not left the house without Woody
since his birthday!
Around the house… this week the rough plumbing and electrical went in, which means we are one step closer to having a kitchen again!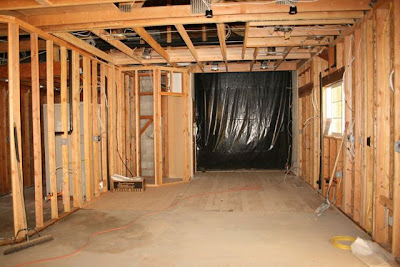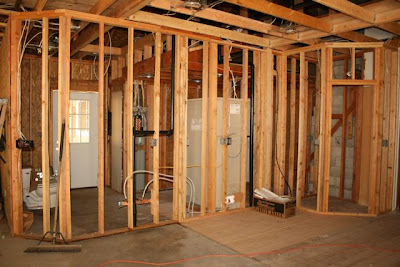 There is even going to be a little walk-in pantry in the corner of my kitchen!
On keeping home… Does any one have any tips for me? I'm starting to feel like a total failure at the moment. . . Our house is such a dusty cluttered MESS!
One of my favorite things… my little Rose and her many facial expressions!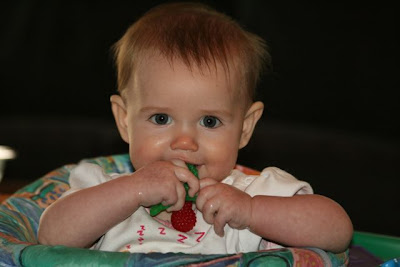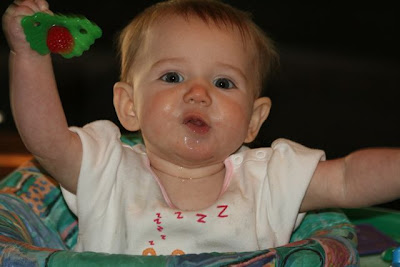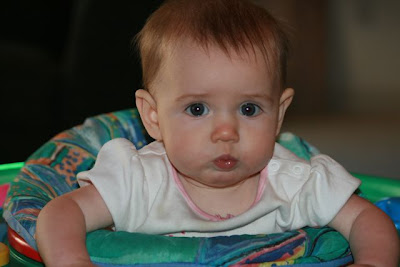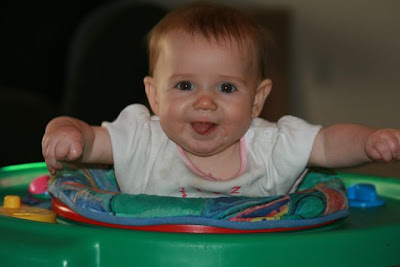 A look at our plans for this week:
Monday :: A Farewell Potluck for the college bound High School Graduates, including my sisters JoAnn & Mary (the twins). We are sure going to miss them when they leave next month.
Tuesday :: Bunco (I won the prize for the most wins!)
Wednesday :: Doctors Appointment (Routine Weight Check) for our little Snuggles (He gained 2 pounds!!)
Thursday :: Captain's State Required 3rd Grade Testing
Friday :: Mass & Benediction followed by a visit to the Coffee Shop for Carmel Frappachinos! 😉
Saturday :: Heating and Air system connected to the addition
Sunday :: Mass and (hopefully!) REST
A Picture thought I am sharing: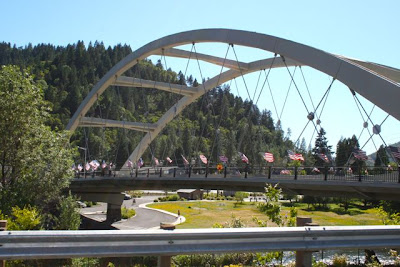 This is a picture of the bridge which crosses the river in our little town.
It was taken on the 4th of July as we were getting onto the freeway!