Outside my window… we have been seeing a momma turkey with all her little babies! They are so cute when they are little. . . Then they grow up!
I am listening to… the contractors hammering away while my children amazingly sleep through it all. (It is currently 6:30 am.) I am so amazed at all the progress that they have been making. The old exterior wall came down yesterday and I am pretty sure the interior framing will be completed today!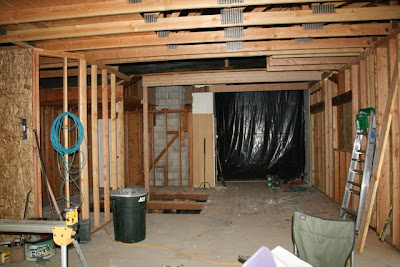 This is looking from new dining room towards the new kitchen. I am very thankful for that big black sheet of plastic keeping the dust out of the rest of our home!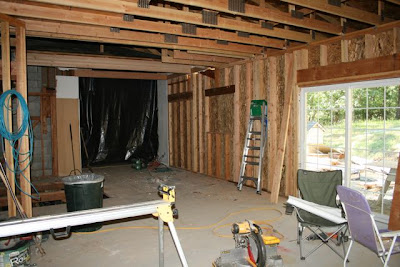 I am sure once the walls are up, and all the cabinets are added, it will be a little smaller, but right now it feels HUGE!!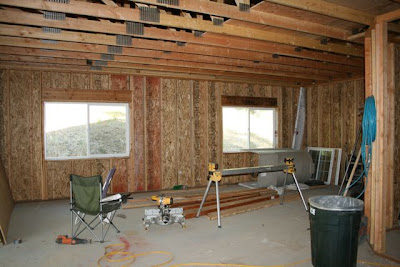 And here is a picture looking the other direction towards our dining and family room area. I love that it is going to be so nice and open!
I am thinking… about all the decisions we still need to make. We've decided to go with Tile floors in the kitchen, laundry and bathrooms, with Hardwood in the dining and living rooms. However, we still have not decided on the colors/styles yet. I also need to choose paint colors. . .
I am thankful… for the new associate priest in our area! (I posted one of his homilies on Father's Day.) We got to meet him at a 4th of July BBQ. He was ordained in our diocese a year ago, but did spend the past 5 years studying in Rome. We really enjoyed visiting with him and hope to have him over for dinner a BBQ, soon!
I am hoping and praying… that we will not be without a kitchen for more than 6-8 weeks, as predicted by the contractor. It is going to be a crazy summer.
From the kitchen… Hummmm… This is a hard one. Currently I do dishes in the bathtub, keep all the food out in our detached garage (which isn't sealed very well and has already been raided by animals a couple times) and we cook and eat on the front porch/deck or the back patio. It has been interesting to say the least.
From the learning rooms… My children are LOVING Summer Bingo! Our oldest three all earned Blackout's last week and are already off to a great start this week. It has been a little harder for Chiquita but I made her card a but easier this week.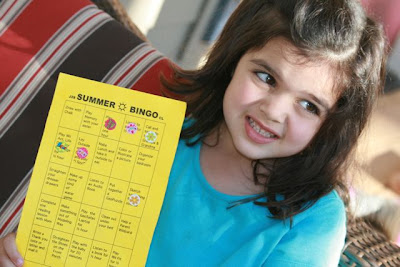 Living the Liturgical Year at Home… I just posted the compilation of recipes for the month of July over at Catholic Cuisine.
I am creating… practice sheets for Captain. He didn't do as well as I would have hoped in some areas of the practice test for his state required testing, which is scheduled for next week. We will be studying up on test taking skills as well as subjects, predicates, punctuation, etc. a little bit each day.
I am wearing… Teething Bling
for my sweet teething baby!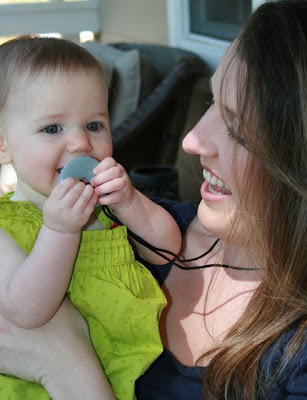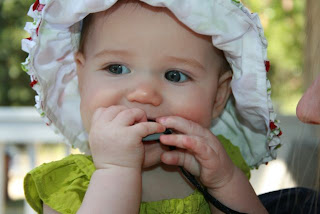 I am reading… The Christian Mother: the Education of Her Children and Her Prayer
a little bit each night.
On my iTouch… a new case
, so hopefully it won't break the next time I drop it in a parking lot! 😉
Our little Rose… is really getting around! In fact just this last week, she started pulling herself up to a standing position in her crib. Why, oh why, is she so determined to grow up SO FAST?!?!
Noticing that… I've had so little time for blogging and responding to emails since our remodel began. I kept thinking things would slow down a little bit, and am now realizing that they probably won't. At least not for awhile!
Around the house… I keep finding staples and nails everywhere. I wonder how long it will be before my "Swagger Wagon" ends up with a flat tire! I even added a couple squares on the girls Bingo cards this week for picking up nails. 🙂
On keeping home… I love this idea for a "Cup Station." Shelly even made one for my children and so far it is working great. Thank you Shelly!
One of my favorite things… our little red grill
!! It was a gift from my Aunt & Uncle awhile back, along with the griddle
accessory, and can't believe we've been waiting for a camping trip to use it.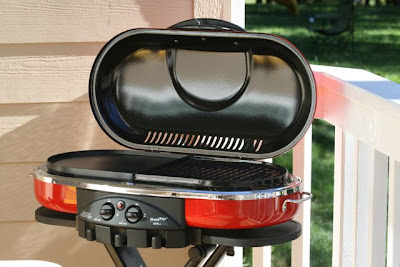 Isn't it beautiful?!?! I just ordered a
stove grate
, which should arrive tomorrow, and I am actually
enjoying
life with out a kitchen. At least some of the time! 😉
A look at our week:
Monday: Work around the yard
Tuesday: Play Date with Friends
Wednesday: Meet with Cabinet Maker
Thursday Morning: Summer with the Saints (possibly?)
Thursday: 3 on 3 Hockey Game for the Boys
Friday : Mass & Benediction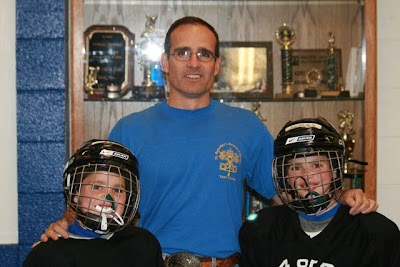 A Picture thought I am sharing:


A few more pictures taken at my niece's Baptism!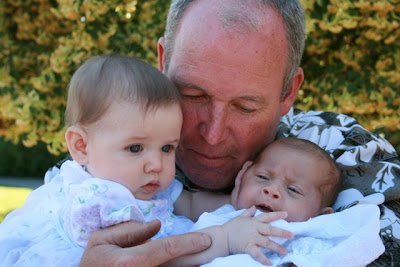 My Dad with his youngest two Granddaughters