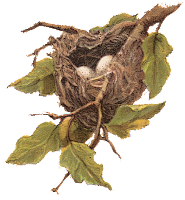 Outside my window… a bird has built a nest and has laid three eggs, despite the fact that my husband removed the poor birds nest 5 times already (before any eggs were laid) trying to avoid what we went through last year. Being right outside our front door, it is not the best spot for a nest and at one point we even had the bird fly into our house last year. Last year we ended up just using other doors, but now all those doors lead to our "construction zone."
I am listening to… the sound of a big huge tractor digging footings for our new addition. Today is the 3rd day we've had construction workers here and I am finding it next to impossible to keep my children away from the windows and concentrating on finishing their school work for the year! I'm afraid our last two weeks (which should have been last week and this week) may take the rest of the month at this rate.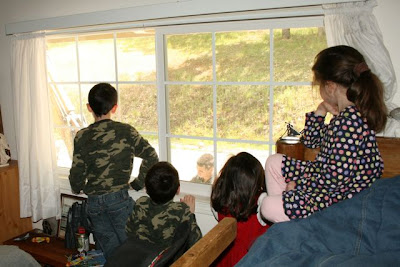 This picture was taken last Friday.
Today is pretty much the same, minus the sun!
I am SO thankful… that Rose & I were able to travel to California this past weekend with my Mom to spend time with my Grandmother. You know, I can't remember the last time I went on a trip with just my mom. It was really fun to spend some time with her. We left early Saturday morning and got home late Monday night. My Grandma is very frail and so much thinner than the last time I saw her, in March of last year when we traveled to CA for my Grandfather's funeral. I love my Grandma so very much and wish she didn't live so far away.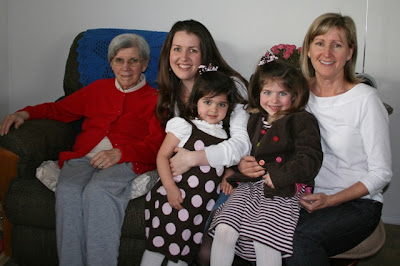 Grandma, Me, Chiquita, Twinkle Toes and Mom
taken in March of 2009
I am thinking… about how nice it was to be completely "disconnected" this past weekend! I brought along my laptop and iTouch, but, other than a quick attempt to get online while ordering a coffee at Starbucks, I was without access to the internet and actually enjoyed every minute of it! It made me realize how necessary it is to shut off the computer and take breaks from the internet from time to time.
I am hoping and praying… that our project stays within our budget, and that it is indeed completed by September.
From the kitchen… Now that we've actually started the remodel, I just spent about an hour sorting through my pantry cupboard. I probably have about a month until I need to be completely moved out of the kitchen and Laundry Room. However, knowing how long it takes me to get anything done any more, I better start now!
From the learning rooms… We are spending this week finishing up "X/Y" and I am really hoping to complete the Alphabet Path next week. With the Year of the Priest coming to a close the boys are working on completing their Lap Book (when I can pull them away from the windows!) in addition to their other studies. We are all looking forward to our summer break!
Living the Liturgical Year at Home… After our busy Easter Season, I am taking a bit of a break. Looking at my compilation post of our past Feast Day Plans and Celebrations, it seems that I tend to take June "off" each year! I'm sure we will probably do a little something for a couple of the upcoming feasts, but for the most part I really don't plan to do much extra this month.
I am creating… another ATC card! I am not an "artist" but I have been having so much fun painting these little cards since Kimberlee's Artist Trading Card Swap. We mailed out all of our cards for the Swap and all of my children are very excited. This morning I had a few extra minutes while nursing Rose and painted St. Therese – perhaps one of my children will agree to paint a card to swap with me.
I'll post the pictures of the cards we made for the swap soon.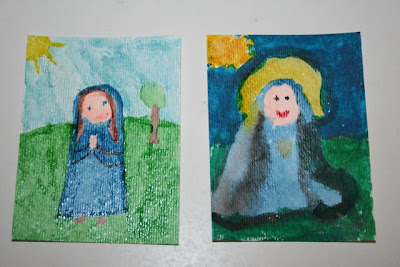 Oh!! And just look what Rascal and Chiquita painted for me as a welcome home gift!! Aren't they beautiful!?!
Our little Rose… was a dream to travel with this past weekend. Honestly she couldn't have been any better! Basically she had me to herself, plus lots of attention from her doting Grandma and other relatives, and was loving every minute of our trip. Nevertheless, she was very excited to see her siblings again on Monday night.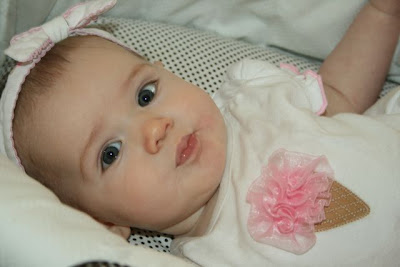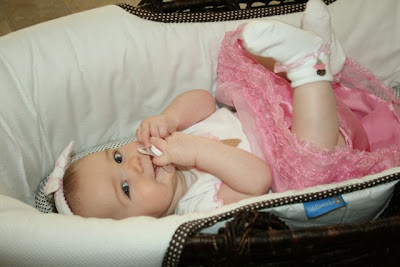 Noticing that… Small Steps for Catholic Moms
is on sale at St. George Books for only $12.50, and only $12.70 at Sacred Heart Books and Gifts. I haven't read it yet, but hopefully it won't be long before I can order a copy.
Around the house… there are chunks of concrete from our "old" patio. Sniffle… sniffle… Such a bummer. We had it poured 5 years ago not knowing the county was going to force us to add on off the back instead of off the side. Oh well. It had to be done.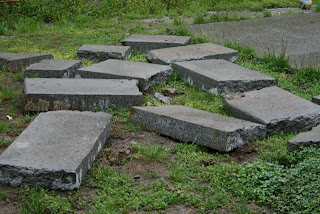 The boys were very emotional when they realized the new addition will be covering up their favorite place to play Hockey.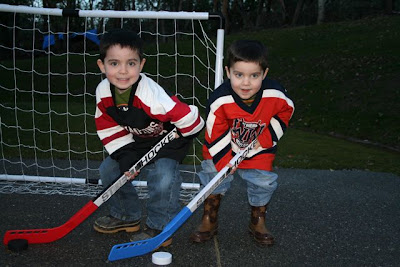 February 7, 2006
A few plans for the rest of the week:
This evening the boys have their last Hockey Lesson for this session, then we will be taking a break for a couple months. Tomorrow night we will be meeting with the contractor to discuss our options for a covered porch off the side of the house. Saturday the boys have a Blue Knights Festival (for the whole family!) to celebrate the end of the year. On Sunday the girls and I have our Mom & Daughter Little Flowers Tea Party. (Which means I need to get busy sewing on Wreaths and Shields!! Yikes!)
A Picture thought I am sharing: