Last Wednesday my brother and his wife were able to bring their sweet little baby home from the hospital at just 4 pounds! So we could have "an excuse" to stop by and see them, the kids and I made up a dinner to deliver and then headed to town.
I only let my children peek at her from the entryway, but it was just so precious to see the looks on their faces as they admired their new little cousin.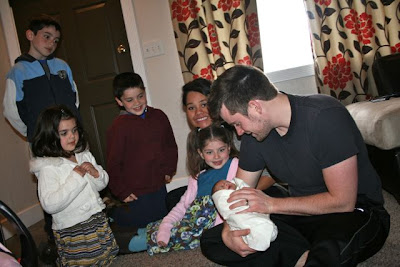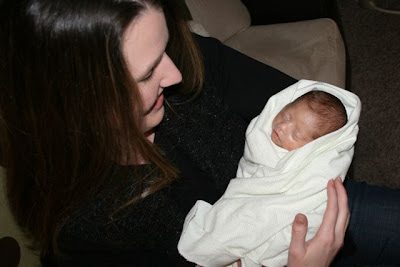 On Friday, we headed back to town for Rose's 4 Month and Chiquita's 5 Year Well-Child Check-ups. We were so excited to find out that my niece had her 2 day (after discharge) appointment immediately following ours. What perfect timing! After our appointments we all went out for Coffee and Smoothies. The little ones were fast asleep:
Isn't this picture cute!?! (Even if my brother says it reminds him of David and Goliath?! Poor "little" Rose!) The girls are both growing well and weighed 4 lbs 4 oz and 12 pounds 14 oz at their check-ups.
On Sunday, after Mass, we stopped by to see the baby "just one more time!" This time the girls both got to hold her for a few minutes. It was so sweet. Afterwards, when I asked Twinkle Toes how she liked holding such a little baby, she said, "I don't know… I didn't really feel anything but her blanket!"
My precious little niece will be traveling to see some specialists in June for an operation she will need sometime next year. Also, she didn't pass any of the hearing screens at the hospital and will soon be seeing a specialist for her hearing as well. Any prayers for these intentions would be greatly appreciated! Thank you!!