We are off to meet some friends at the park! Before we go, here are a couple picture of this year's dragon cake!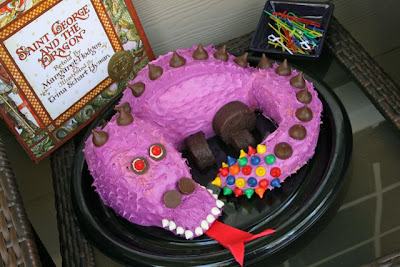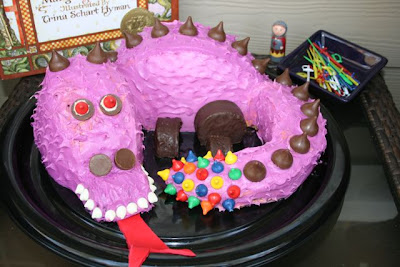 He didn't turn out nearly as cute as I would have liked, but I don't think the kids will mind.
**Notes to self for next year**
Stick with the color green. (This dragon started out orange peach and then ended up purple, at the request of my children. I think he looked better green!)
Buy extra "extra" frosting. (I thought that "extra" can would be more than enough, but ended up not being able to frost the Ding Dongs poor dragons thighs and feet. Oh well!)
Fondant makes MUCH better flames than Gummy Worms! 😉
Don't "hide" the Keebler Cookies. (You will probably not be able to find them when it comes time to actually make the cake. However, hershey kisses make an easy substitute for the spikes.)
I hope you all have a very Happy Feast of St. George!