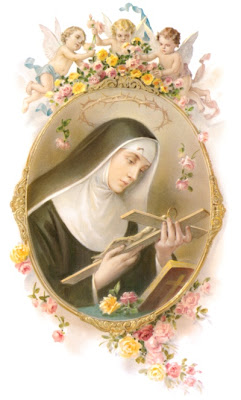 Today was the feast of St. Rita and one of my brother-in-law's 6th
Anniversary
to the Priesthood!
Happy Anniversary Father!
Another one of my husband's brothers will celebrate the 2nd Anniversary of
his ordination
on May 30th, and yet another brother will celebrate his 4th
Anniversary
on June 3rd.
Please remember them, and all priests, in your prayers!
Daily Prayers for Priests
O Jesus, Eternal Priest, keep your priests within the shelter of Your Sacred Heart where none may touch them. Keep unstained their anointed hands, which daily touch Your sacred Body. Keep unsullied their lips, daily purpled with Your Precious blood. Keep pure and unworldly their hearts, sealed with the sublime mark of the priesthood. Let Your holy love surround them from the world's contagion. Bless their labors with abundant fruit and may the souls to whom they minister be their joy and consolation here and their everlasting crown hereafter. Amen.
Keep them, I pray Thee, Dearest Lord, Keep them, for they are Thine.
Thy priests whose lives burn out before Thy consecrated shrine.
Keep them for they are in a world though from the world apart;
When earthly pleasures tempt, allure, shelter them in Thy Heart.
Keep them and comfort them in hours of loneliness and pain,
When all their life of sacrifice for souls seems but in vain.
Keep them, and remember Lord, they have no one but Thee,
Yet they have only human hearts with human frailty.
Keep them as spotless as the Host that daily they caress;
Their every thought and word and deed deign, Dearest Lord, to bless. Amen.
O Jesus, I pray for your faithful and fervent priests; for your unfaithful and tepid priests; for your priests laboring at home, or abroad in distant mission fields; for your tempted priests; for your lonely and desolate priests; for your young priests; for your dying priests; for the souls of your priests in purgatory. Above all, I recommend to you the priests dearest to me; the priest who baptized me; the priest who absolved me from my sins; the priests at whose masses I assisted and who gave me your Body and Blood in Holy Communion; the priest who taught and instructed me; all the priests to whom I am indebted in any other way. O Jesus, keep them all close to your heart and bless them abundantly in time and eternity. Amen.
Saint Rita, mystical Rose of every virtue, pray for us.